ince you all know my background, family, friends, and a lot of intimate details of my early life, I will now concentrate more on my stripping for God, with anecdotes of people I met and clubs I suffered at. The first will be the Playboy Club, where I spent three eventful months: January, February, March, and a few days in April 1978. You must understand that when I went to the Playboy Club I had just returned to dancing six months after about a three year absence doing community work. I was very anxious about my career, establishing my name and fame, credibility, making good money, being successful both in dancing and in missionary work. I started back to dancing in July 1977, a trial job, sort of, in Puerto Rico for two week s. I took a vacation from work in order to start, not even sure if I wanted to quit my job and start dancing again. I was not in perfect shape. My hair was bleached blonde from 1976 and breaking off so I had it cut real short, and I did not have my dancing legs yet. I was very nervous and uptight about everything, constantly worrying and fearing I would be a failure. I kept a pretty good diary in Puerto Rico and will go into it later, after the Playboy encounter, which is more important. When I returned from Puerto Rico I did quit my community job and worked in New York at the Melody Theater and Philadelphia. I cannot recall offhand any other jobs - I never have been a steady worker in stripteasing. That's the way this business is. Actually I was desperate for work. My sister Zowie read an ad in the paper which indicated that Minsky's Burlesque was in town at the Playboy Club in New York. She suggested that I contact them. I did and got a letter from Jerry Lucas in Las Vegas, who was the main manager of the show. The old Minsky was then sick and would die soon. I called Jerry Lucas and they really wanted me for the show. I discovered that they were having problems finding a star. In fact, when I went to see the show in New York they didn't even have a striptease star. One of the dancers in the show doubled as the stripteaser, and that doesn't make it. I can understand why they had trouble because of the prices they were paying. The salary he offered me was rock bottom money. I protested and he explained that room and board came with the salary and it was for three straight months. I thought it over and decided to take it. I had a premonition that I had to go to Chicago.
| | |
| --- | --- |
| | |

In the meantime, for about a week I was having dreams about Mr. Scott. Who was Mr. Scott? A millionaire businessman I used to date in Hollywood when I was real young. Why on earth was I having dreams about him? I never even thought about him for years. The Light said to me, "Contact him." So I wrote him a letter, and sent him some of my clippings and new photos. Within a few days I got a telephone call from him. It just so happens that he was coming to Chicago on business at EXACTLY THE SAME TIME I WAS OPENING - THE VERY SAME DAY, and he would love to see me.
That was all I needed. My stress factor went up to about a ninety-nine out of a possible hundred. Along with worrying about opening in a new show in a new city, I now had to worry about seeing Mr. Scott. Why worry? It's kind of tricky to explain.
When I was real young working in Hollywood and surrounding areas as a dancer I was, of course, very beautiful. But inside my head my self-image wasn't beautiful. I didn't know that at the time, honestly; I REALLY THOUGHT THERE WAS A LOT WRONG WITH ME. Looking back I understand THERE WAS NOTHING WRONG WITH ME, only the pain, frustration and bitterness of how I was treated at home. This was all still in my head like a terrible sickness waiting to be healed. People who looked at me from the outside only saw a young, voluptuous woman. They had no idea what I was suffering inside. I had internalized the image of worthlessness Mother & Co. had projected on me for eight years. That was when I met Mr. Scott. Mr. Scott wasn't only rich. He was debonair, suave, charming, gracious, knew a lot of movie stars and other millionaires and hung out with them, had exquisite taste in clothing, decorating, houses, etc. He was the perfect man externally speaking, and he was a bachelor living the free, swinging life.
I was "sort of" a nothing in the eyes of the world, status wise, but what was worse as far as these types of relationships go; I was a "total" nothing in my own eyes. I had only one thing that I knew for sure was valuable, and that was my body. Every man who wasn't gay wanted my body. Even some gay men wanted my body.
And so, in my relationship with Mr. Scott I felt that the least I could do was lend him my body, in exchange for his friendship. And even when I was giving him my body I definitely felt like he was doing me a favor by being with me, that I was very lucky. That was the way I thought about myself. It was like Cinderella with Prince Charming.
Since those days with Prince Charming a lot of water had gone under the bridge. I was much older and in the interim had grown in experience and worldly wisdom (at least a little bit), but most of all, I had been saved, Christ had entered my soul and I had grown. What did this do to me? Did I now feel worthy and great? No. I still knew I was nothing, more than ever, only God was great, but "my soul doth magnify the Lord." Whatever confidence I had in myself was my confidence in God, not in my own personal self. But I could recall how I felt in the old days and this confrontation, both mental and physical, with Mr. Scott brought back old memories. Now everything makes sense, but then, I did not understand what I am saying now. My imagination was going crazy. Here is the monkey wrench that was wrecking my reasoning powers:
It was the LIGHT that inspired me to contact Mr. Scott. Why? There had to be a good, legitimate reason. I surmised wrongly, that the Light wanted Mr. Scott and I to be MARRIED! Yes, he was married to someone else, but maybe they were on the verge of breakup or something. Why else would God want me to contact him and see him? I did not imagine then, the truth, in a million years, that GOD WANTED ME TO CONTACT MR. SCOTT SO MR. SCOTT COULD HURT ME SO BADLY THAT I WOULD NEED SUPERNATURAL AID TO CONTINUE LIVING! THIS WAS A GREAT GRACE BECAUSE WITHOUT SUCH PAIN ENTRENCHING GREAT FURROWS IN MY SOUL, CHRIST WOULD NOT HAVE BEEN ABLE TO PENETRATE MY BEING SO ABSOLUTELY. My dreams that I was having the week or so before the meeting, all indicated this truth but I, of course, did not understand the dreams until later. Dreams often do not make sense until after the thing happens, and then you look back and understand the symbols. In one of my dreams, for instance, Mr. Scott was happily throwing a spear at me real gleeful, and I didn't know this spear was to wound me so that there would be an opening for God's light to reach me.
The vision of marrying Mr. Scott was doing wonders to my imagination. That was what God wanted, I thought, so now I could do my religious work. Mr. Scott's money would be put to good purpose to build things to help people and glorify God. I had better make good, make a good impression on him and do the right things so he would see I was now worthy to be his wife.
However, I did not give too much credit to Mr. Scott as far as seeing the Christ within me. I somehow had to make a good impression on him externally as well as spiritually by my actions, words, gestures, demeanor, etc. I had to say and do the right things. What were the right things? That I didn't quite know. I was also not used to such exalted social company, especially in public. The dates Mr. Scott and I used to have were mostly in private. He would take me to nearly-empty restaurants (nice ones) and never invited me to private parties he had, which I, of course, longed to go to.
He did take me on some business excursions, his partners and he, in order to impress male clients. I was an ornament. He even told me once he envisioned me serving one of his parties - for men only I presume - as a French topless maid, waiting on them, little hat and apron and all. That's how he saw me. He also took me home where we would sleep together, and since I always slept late (that was still when I needed twelve hours of sleep), I would get up way after he went to work and have breakfast served to me in the dining room by his "Butler." Would you believe? I really liked the Butler - he was religious, and we had great talks. No, I wasn't religious in those days, but I always respected God and I was searching for Him. Every time I used to bump into the butler shopping somewhere around Beverly Hills, he always used to encourage me about Mr. Scott, saying over and over again, "Call him." But I didn't have much confidence in those days, and this discouraged me. So instead of really working on the relationship, I just sort of let it happen when it would. No, I was not marriage material for Mr. Scott because of my lack of self esteem. If I had had self esteem I could have learned the social graces Mr. Scott's wife would have to have. After all, I was only about twenty one at the time. Later on a very charming and beautiful lady did marry him. I am sure she had self confidence.
And so, deluded by the thought that now that I had grown in Christ at last I was a worthy wife for Mr. Scott, I awaited his coming to the Playboy Club, where we would have a glorious reunion and fall in love once again. I already felt great love for him in my heart, inspired by the Light, and this love would rekindle him. Then he would be perhaps sorry we once broke up, make amends and resume our relationship, which would possibly end in marriage. And together WE WOULD SERVE THE LORD. After all, he was much older now and would see the error of his ways, living for worldly pleasures and luxury. He by now would be lonely for Divine Love and the joy that only God's service could bring. He would realize, after all, what is money for but to serve God and help the unfortunate. What good were the mansions and Rolls Royces he had. What ultimate good had they really brought him? And with these thoughts I awaited him. I had other things on my mind, too, things about the show and this was taking up much of my time and energy, but the paramount question was Mr. Scott. Now, with this in mind, I wanted to tell you what happened on the fateful night of January 8, 1978.

Taken from my diary and recollection, here is what happened: Jan. 8, 1978 Playboy Club, Chicago.
ONE OF THE MOST MOMENTOUS NIGHTS OF MY LIFE: NIGHT OF THE THREE RINGS.
This night I was betrothed to Christ and received promises.
I went to sleep and had a terribly sad dream. It was a vision of exactly what would happen between Mr. Scott and me.
I dreamed that they were doing the story of my life and one scene, which I am seeing, shows how pitiful I was.
There was a PITIFULLY poor girl living in this room by the ocean, like a motel room. She had NOTHING. This great rich man came to make love to her. He befriended her and was with her, and then he left her all alone just as impoverished as she had been. He gave her nothing at all before he left.
And here we see her all alone again in that poor room suffering and the picture closes with the ocean waves breaking over rocks, very sad. As I awoke I heard the Light say, "And that is a chapter of your life."
PLAYBOY'S THE YEAR IN SEX PICTORIAL
Kellie's bust on the table of contents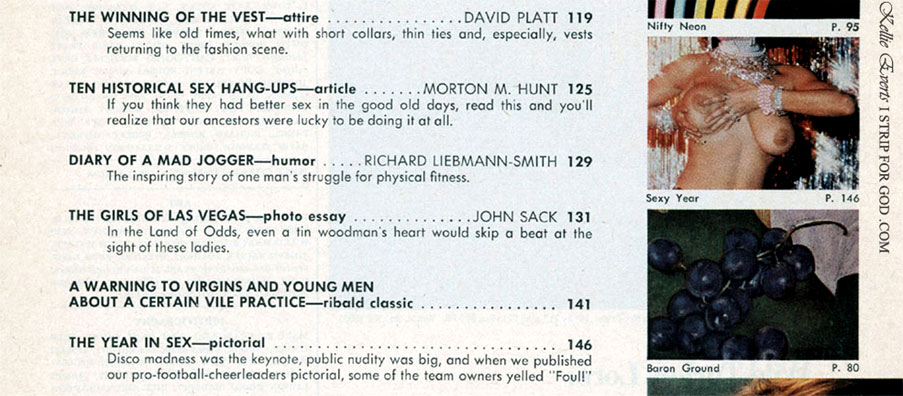 Kellie appeared in Playboy 9 times and hopes that Playboy
will one day do review of her life & present activities.
Click thumbnail of page for full photo
I was told by the Light, after I woke up, to get up and pray the rosary, which I did kneeling on my bed facing the wall where I have the picture of the Sacred Heart of Jesus. This might have been the night where I said the rosary with devotion for the first and only time in my life thus far. I was infused with a love I had never had before nor since while praying. After I prayed I sat on my bed against my pillows and thought about the dream, and when I saw clearly what it meant my heart was broken. First my heart was dilated, until I began to cry, and as it was dilating, it also seemed to be breaking. I felt the deepest pain and the deepest love simultaneously, and it was centered in my heart. It seemed that I could hardly bear the extremity of these feelings, and I cried deeply. Gazing at the picture of the Sacred Heart of Jesus on the wall, in my mind, I spoke to Him. I was thinking that I would be willing to suffer anything, absolutely anything, to make atonement for my sins. In fact, I thought about cancer, and in my mind I told Jesus I would gladly and willingly suffer cancer to pay for my sins. This was the uppermost and overwhelming desire within my heart now, atonement for sin. I didn't realize it then, but now I understand that was what is known as PERFECT CONTRITION. PERFECT CONTRITION prepares one for union with Christ. I now said out loud to Jesus, "PROMISE ME THAT I WILL NOT DIE WITHOUT PAYING FOR MY SINS."
He said to me clearly, not audibly, but in Supernatural communication, "I PROMISE YOU THAT YOU WILL DIE IN MY ARMS."
At this answer I burst into more tears, and in a short while I said to Jesus, "AS A PROOF OF WHAT YOU HAVE SAID TO ME, I WISH TO RECEIVE AN ENGAGEMENT RING FROM YOU ON MY LEFT HAND."
I put my left hand out and stared at it, and lo and behold, I saw A BRILLIANT FLASH OF LIGHT BLUE LIGHT ON MY PINKY. Full of joy, but also apprehension that this did not signify a betrothal, for betrothal rings are customarily put on the second finger, I complained, "BUT THAT IS NOT THE RIGHT FINGER."
At once I saw a flash of brilliant blue light on my index finger, and again said to Jesus, "BUT THAT IS NOT THE RIGHT FINGER EITHER!"
In a moment, THE BRILLIANT LIGHT FLASHED ON THE ENGAGEMENT FINGER! At this, I broke out in tears of joy for a long, long time.
I realized only later that the reason the Lord gave me the rings on the other fingers first was because HE INTENDED GIVING ME THREE RINGS, ALTHOUGH I ONLY ASKED FOR ONE - THE RING OF LOVE - HE ACTUALLY GAVE ME FAITH, HOPE AND CHARITY AS GIFTS THAT NIGHT - THE INFUSION OF THE THEOLOGICAL VIRTUES! I was never the same again. In particular, these gifts were manifested in me during this three month engagement at the Playboy Club. I became more sensitive, and so could feel a lot more pain, but this was mitigated by the extra amount I also had of love in my heart. I knew then that we mortals can never judge how much another suffers, because we never know how much love they have within them. Little did I know that this grace helped prepare me for the next three months, as the Playboy Club would be a kind of torture chamber for me, a school of torture to perfect my spiritual existence. The incident of the rings took place from about 1:00 A.M. to 5:30 A.M. the night after January 8. After I fell asleep I continued to feel the effects of this supernatural state all night.
Chicago, that three months, was one of the most momentous periods in my career. Although it didn't pay much financially, I knew that a lot of other things would happen that would pay big dividends, and they did. But not with out the expense of my suffering. Success and suffering always seems to go together for me.

Before I left town I went to see Father Confessor for confession. I told him that I was leaving town, going to Chicago for three months to work, and I intended to take advantage of the opportunity to do some missionary work there. He gave me the name of a hospital I could visit, which I never went to (run by religious) and he blessed me. That blessing would sure come in handy later on. I remember everything about the trip as being momentous or significant, in light of what happened later on. It seemed that even sitting on the bus with my future best friend Joi, was significant. I purposely left Jimmy Matthews, the comedian, to go meet her and talk to her. She kept laughing and smiling and seemed totally amazed at all the things I said. We would be as close as two sisters the rest of the time. I needed a friend, and so did she. We both went through trying times this period.

If anyone is beautiful it is Joi. She is petite, dark skinned with delicate features, an absolutely impeccably figure, and perfectly groomed, dressed and coifed. I was very impressed with her. Not only that, she was intelligent, and was a professional before she went into the dancing-singing field. And to top it all off - she is religious - to some degree.
My other best friend was Sable. Sable is also beautiful, tall, gorgeous figure, exotic Spanish looks. Joi, Sable and I were all three new editions to the show picked up in New York. It seems to me they picked up some exotic spices to spruce things up for Chicago. The rest of the cast were Anglo-Saxon girl next door, flat chested and flat assed. Only one of them was really beautiful I would say, the lead dancer, a beautiful face and talented and good, but, like the rest of them, no body.
Joi, Sable and I sort of hung out together in the beginning, but after a while Sable kind of dropped out, and although she remained a friend, she was usually busy doing her own thing. I'm not sure what she was doing, because I usually slept in the day, having bad insomnia at night as usual, then needing - ugh - at least eleven hours of sleep a night. I was usually lucky to get up in time to rush to the Cathedral for 5:30 mass! After mass, dinner time, would be my first meal of the day.

Everyone was busy rehearsing. The new people had to learn the dances, plus I think they added some new routines for all. The music had to be worked out for my act with the band. The singer had to rehearse her songs with the band. I was the least busy of them all, as my act was very simple - only nine minutes, and I just had to dance by myself and not worry about any choreography or rehearsals. But just to be friendly I came to the rehearsals and watched, most of the time. I met Jerry Lucas, and he got mad at me because I told him if the contract was renewed past the three months, I would have to get a raise. That was the only time I saw him. He returned to Vegas and I did not speak to him again. Jimmy Matthews was officially the road manager and paid us every week.
Everyone was talking about the big-shot manager of the Playboy Club, who was out of town. They were all in awe of his authority in the place - I guess they knew him from the show being there before. I couldn't wait to meet him myself - little did I know then how traumatic and unpleasant that meeting would turn out!
I had a stack of my publicity and, as usual, everyone I met I told about myself and showed them my publicity. That is one of my good and bad points, especially in the past - a very zealous friendliness and self-promotion. That does get you talked about, but also causes jealously and ill will on the part of some people.
In the beginning I remember not knowing anything about anyone, being friendly to all, liking all, but apparently they did not feel the same way about me. There were inklings of trouble which would soon turn into rivers of tribulation. I thought then, that if I was real nice to everyone, liked them, complimented them, they would also like me. But that wasn't the case. What I forgot about then was JEALOUSY. You could be perfectly nice and good, and if people ENVY you and if they have MALICE they hate you no matter what you do. And if you are nice it makes them BOLD in persecuting you, as it is easy to hurt the meek and mild. That is exactly what happened.

It started with the singer-MC of the show, a fairly nice looking girl, albeit totally flat chested, who developed animosity toward me. I could not fathom what I had done wrong, in her eyes. It takes only one to start something - I learned that much from living with my mother, and it became Mother & Co. This girl, who I shall call Joey Gordon, started her own company of hate against me, and so I could call it Joey & Co. And honestly, it took about two weeks to hit me - that she despised me and was trying to do me in!
She had a resentment toward my nudity - would you believe? Most of the other people in the show were topless and dancing their hearts out - but their nudity didn't bother her, only mine. That must have been because I had breasts - big ones. And I also did a "sexy" though not vulgar act. Actually it's all in the mind. All I did was bumps, grinds, shakes, etc. To some people that may seem disgusting, to some people funny, to some vulgar, and to some exciting. Most people found my act exciting, judging from the audience reaction.
Another thing that bothered her, besides my body and breasts, was the fact that I was the star of the show. Oh, they didn't announce me as the star, nor did they put my name in the paper (that was the show manager, Jerry Lucas's fault) but everyone knows that the star of Minsky's Burlesque is the stripper, and the comedian is second, or in some cases, has top billing with her. But there were two other people who wanted to believe they were the stars - Joey Gordon and the lead male dancer, a gay guy who had his boyfriend with him. They resented the fact that I, a mere stripteaser, was taking the limelight and attention away from them, when they, who had all the talent, were being overlooked.
As soon as I got into town I started my own personal publicity campaign. I first made inquiries about what they had done or intended to do and it was zero. That wasn't my style. If they weren't going to do anything, I certainly was. That was another thing they would grow to resent with a fury - my publicity campaign. They would be weeping and gnashing their teeth trying to figure out how I got all that publicity, and they would say that I was only promoting myself and not the show.
The truth was that it was the duty of the show managers themselves to promote the show and all of us in it, but they didn't know anything about P.R. When I did my P.R. it was for myself and my apostolic work, but everyone knew where I was working and people would flock to the Playboy Club to see me and the show. It was because of my publicity, a job they were negligent in doing.

My publicity campaign started like this: The very first day I got into town - I think it was Thursday, I immediately bought all the papers in Chicago. (I usually do this in every town.)
It must have been the following day - Friday, that I called the newspapers. The show was to open on Monday. Two of the papers I called were interested, but both wanted exclusive stories, and because one of them got it first, the other wouldn't bite. I don't recall the details, but I won one and lost one. The one I won was The Chicago Sun Times. Bob Greene, a syndicated columnist reaching sixty five newspapers, came to interview me. I had no idea how important he was. He wrote a very funny, amusing article which hit the paper on the very day we opened. Everyone thought it was a fluke, the fact that I got such a good article. They figured, "Oh well, Kellie Everts got lucky. Now people will wise up, and after they see the show they'll see she's nothing, and we are the great ones."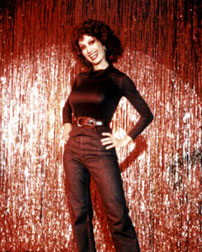 That was the feeling I got. Little did they know, the worst - for them - was yet to come. This was only the appetizer.
On the very first day of work, even before, Joey Gordon started her campaign against me. Would you believe we had to share a dressing room? I had several thousand dollars worth of dresses and jewelry in the room, and she wanted to keep it unlocked so she could zip in and out. But I had to have it locked for fear of having something stolen, most of which was brand new I had especially made to work at the Playboy Club. I had to fight on that one, and finally, Jimmy Matthews said my request was reasonable - everyone knows the stripteaser has to have her clothes locked up because they are very valuable and she can't work without them. Joey must have started grumbling against me, because the next thing I knew the choreographer from Vegas - a lady - walked up to me in the dressing room and told me off. I didn't understand what in God's name she was talking about, but it was really strong. Something about I thought I was the star - this was going to be a recurring theme - that I THOUGHT I was the star - and that I had better straighten out. I was just flabbergasted and confused, and acted meek and quiet. I said something to the effect I didn't know I had done anything wrong and would try to cooperate in the future. At this point I was afraid of getting fired - they would try that later on, too, but wouldn't find a replacement! I intended to keep this job, for which I had such high hopes, at all costs. It was like I had my mind RIVETED on doing something GREAT while working there and no one and nothing could stop me, not even all hell.
The main gist of my publicity campaign started like this. I had a lot of Xeroxed copies of my meditations on the rosary, as well as some other literature, and I decided to give it out on the street. The spot I chose was very close to the Holy Name Cathedral, which was a few blocks away from the Playboy building. It was freezing cold, about eight above zero, but I was determined to do this thing. The first Sunday I gave out these papers for about an hour or so, and the next Sunday I stopped at a coffee shop for some coffee before hitting the streets again. A young handsome black man befriended me, and while we were talking he offered to help me give out the papers. So we did it together. We had an appointment to meet the next Sunday at the same time, but he didn't show up. I went at it alone, and while I was giving out papers I heard an inner voice saying, "Don't give out any more papers."
That must be the devil, I thought, and kept trying to hand them out. But now, NO ONE would take them. About ten people in a row refused me, and this was strange. So I stopped and I said, "What do you want me to do?" And the answer was:
"I want you to go on every T.V. show you can, and try to get into every magazine and newspaper and radio show you can, THIS WAY YOU WILL REACH MORE PEOPLE." I said,
"But who will want me?" And the answer was,
"You haven't TRIED." I was determined to try. This was the Light giving me orders, and it made sense. I went into the Cathedral to pray. I sat for a long time thinking and planning what I should do, anxious to get started. I started that very night.
You must understand that I had some publicity in the past - some quite notable, but it was never a steady stream. After this campaign it was to become a PATTERN, a career based on the term STRIPPER FOR GOD. I give some credit to Bob Greene of the Chicago Sun Times for coining that phrase, although he actually said, "'Stripper For Christ', A stripper invited me to her room, and it was just my luck that she was the 'Stripper for Christ'," but in actuality the National Examiner first used that phrase in late '77 - The Girl Who Strips for God.
That very night I took whatever materials I had - copies of the recent Playboy article I had done - Humping Iron - and Xeroxed copies of other articles I had been in, and arranged everything. The next day during working hours I started calling the T.V. shows. The way I discovered what T.V. shows were on in town that I could be on, I would call the PROGRAM DIRECTOR of each station (first I had to find out the names of the stations) and then ask the program director what shows were on that I could be on - talk shows, news type shows, etc. The programming director would give me the names of shows, the producers names, and the telephone numbers and addresses. Now I had something to work with. This is a very important point to remember if you are working on publicity. I discovered that you have to be systematic, thorough and persistent. There was a method to my "madness" I would say. And, later "my success will be my revenge."

I also went upstairs to the Playboy Magazine publicity department to find out if they could give me any help or advice. They were nice to me at first, but later they were very busy and didn't have time to get involved with my affairs. Actually, this is the only help they gave me - the head of the publicity department told me, answering my question of how to call back T.V. shows once I had submitted myself, "every day." Go for it, girl!
The editor of Playboy, Sheldon Wax, was more help than that. I went up to see him in person. I had faith in him because he had once done me a favor by phone. When they did the articles "Humping Iron" they forgot to mention anything about my ministry or the One World Light Church - I knew they did because they called me to verify the copy. I called Sheldon Wax, and he did me the big favor of putting this information into the Playbill section in the front of the magazine. I knew he was a good person - was encouraged. I persuaded my friend Joi to go with me, maybe she could get something out of it too. After all, she certainly was beautiful enough and sexy looking to be in the magazine. Joi went with me reluctantly, thinking it was no use. She didn't think I could get anything out of this, either. Later I made a believer out of her.
Sheldon Wax was taken aback by my impromptu visit - I don't think they have steady streams of visitors up there. Most of their work is writing, editing, layouts, research, etc. It is more of an intellectual world, a writer's, editor's world. He did not have me sent back. He came out to see what I wanted. When I introduced myself he was kind enough to let Joi and myself go back to his office - way at the other end of the floor. The Playboy building is very beautiful, both on the outside and the inside. On the inside, as far as I recall, they have nine floors or so, and each floor is exquisitely decorated with art that was especially made for and featured in Playboy - not only photos and paintings, but also paper mache statues and such, and lots of plants, etc. I think the Playboy offices were the most beautiful of any offices I have ever seen.
Sheldon Wax was smoking a pipe and he was surrounded by books and hundreds of stereo classical records, one of which was playing.
I was armed with a tape recorder of a T.V. show I had just been on in Chicago (my first one there - I will tell you about it later) in which I gave a good plug for Playboy Magazine during the interview. I insisted that Sheldon Wax would hear this, although he protested at first. I insisted, so hear it he did. I think he was overwhelmed by my rashness. However, in the light of later events, I think Sheldon Wax was open to the promptings of the Holy Spirit.
I asked Mr. Wax if they could do another article on me for Playboy, knowing his answer would be a probable no, because I had been in it twice already, and once recently. He predictably explained this to me. However, he said that perhaps they could put ONE photo in the gossip section, because of the fact that I was dancing in the club downstairs. I had won, and later he assigned a photographer to take some photos of me. As far as Joy went, unfortunately, though we tried, she didn't get anything out of it except seeing the offices, meeting Sheldon Wax, and watching my P.R. workings in action. I told her that her being with me was a learning experience in preparation for her future stardom. She would also go with me on some T.V. shows, just watching, and would get a little publicity toward the end of the gig - I'll tell you about that later.
The show that I was on, which I persuaded Mr. Wax to listen to, was Friday Night with Jay Levene. The producer, Bob Shultz, is the one who invited me. Later he would move to Los Angeles and would be instrumental in getting me on the Real People show. When he called I was so thrilled I was beside myself. The P.R. was beginning to work! I obeyed God and it was bearing fruit!
Joi was with me when I went to do the show, just sitting in the audience. It wasn't a very good interview because I did not have much experience and confidence at the time, but I was learning. It was a beginning.
The Playboy Club Lounge, where we ate most of our meals, was a gigantic place which also had a stage show - Duggan Dancers - and was graced with the always-beautiful bunnies. One of the features of the lounge was television sets spaced throughout the whole area where people could see various shows which had been taped. I asked them to tape my show, which they did, and they played it over and over - at least four or five times to my knowledge. When the other people in the show saw me on this T.V. show, they were amazed. The ones who hated me, Joey & Co., were very upset. Again, they figured it was another fluke of Kellie Everts, and probably the last show she would get on. But they would see more of Kellie Everts again and again.

I did not only try to contact T.V. shows, but also every magazine and newspaper that I could get in Chicago. The reason I was so successful was because I had the unction of the Holy Spirit. Also, I contacted EVERYONE, even the black paper in town. Even my friend Joi, who is black, didn't get into the Chicago Defender, but I did. I saw the paper and thought,
"Why not? Black people appear in 'white' papers, so why can't a 'white' person appear in a 'black' paper?"
I sent them a letter and a photograph where I was sporting a REAL dark suntan. The editor called me up and in a discreet way asked me if I were a lady of color. I told him none of us really know what we have in our background, but presumably I was white, I couldn't lie about that. He decided to interview me anyway, thank God. So we made an appointment. He met me downstairs in the lounge for our interview. What a gentleman he was! Tall, distinguished, well-spoken and spiritual. He told me a very interesting thing. He had made a vow never to set foot in the Playboy Club and he had broken his promise to come and see me. I asked him why.
He said that he had joined the Playboy Club way back when it first started, and somewhere down south a new club opened up. Because he had a key he took a few of his friends and they all went down there. His friends were darker than he - this man was kind of a light mulatto color, and the Playboy Club refused entrance to his friends, but said he could come in. Of course, he wouldn't enter without his friends and was highly insulted, then proceeded to sue the Playboy Club.
What happened next, as he told me, was that Hugh Hefner himself pleaded with him to give up the lawsuit, saying that private franchises did, more or less, what they wanted, and he couldn't do much about their policies. After much cajoling, the black editor gave up his suit, but promised himself he would never again set foot in a Playboy Club. As he told me the story he seemed very sad, and I knew why. He was ashamed of himself for not following through with the lawsuit. He d id not maintain the courage of his convictions. Of course, the sin of discrimination I'm sure also made him sad.
Anyway, he interviewed me. The article, which he wrote himself, was excellent, flattering actually. He said that I was beautiful within, as well as without. He loved me!
Another coup that I made was getting on the Common Ground show, a late-night talk show hosted by Warren Saunders, an intelligent well-spoken black man. He was married to a lovely oriental lady who later came to see our Revue with her husband. He told me after the show that if he had seen the show first, he would have given me a better spot on Common Ground! What they did do was put me with two black deadbeat comedians. One was nice, but an unknown, one was bitter and jealous of the exposure that white woman got on television. He used his airtime to vent his rage, and wasn't very funny. This show, like the first one, was repeated three or four times in quick succession, so I got a lot of exposure.
One effort that Joi and I both made, which did NOT succeed, was trying to get on this big telethon which they had at the time. The rest of the Minsky Revue got on it, answering telephones in the middle of the night. For some reason Joi and I weren't interested, I think because it was part of a mob scene. But I did call up from my hotel room to cheer them on, and the host got on the phone and loudly proclaimed that he was talking to Miss Nude Universe Kellie Everts, so that was a plug.
The next day I told Joi that she and I should go down there dressed in our sexiest outfits and get on the air while helping their cause. Again, she was reluctant, but I persuaded her it was worth a chance, and she should wear her fishnet leotard embroidered with jewels from head to toe. We felt like a couple of fools because everyone was staring at us and they wouldn't let us on the air. They were a bunch of prudes. Before we left I approached Herb Kupcinet to persuade him to put me on his talk show, but he brushed me off, saying he would call me, which I knew he wouldn't. We both were dejected and left, totally disgusted with our failure. Joi in particular was upset, but nothing could stop me from going on. I say every "no" brings you closer to a "yes." This was just a stepping stone to the next yes.
After that, I did get on the A.M. Chicago show, which was hosted by the very lady who hosted the telethon. This was God's way of returning my effort. The last show I got on in Chicago was the Ron Hunter Show, which was my best interview. Because all these shows were repeated however, I was on the air a couple of dozen times it seemed! Everyone was talking about me!
There were several others who definitely wanted to use me. However, the time schedule did not permit a spot before I left town. Lots of show producers came to see me at the Playboy Club to watch me and talk to me. In fact, I had more reporter guests than anyone had ever seen at the Club. Reporters were supposed to get a discount, but they played a nasty trick on me with that. The manager of the room, by the name of Ken, was good friends with the singer, Joey Gordon, and had been her drummer in the past. They were bosom buddies.
The next thing I know, this Ken informs me that my guests will no longer get a discount, they will have to pay full price. I protested that this was the press giving publicity to the show, but he wouldn't hear of it. The imbecile had been programmed by Joey's jealousy and hate. It was her way of getting even with me for my publicity.
They had much to hate me for. One time something happened which even befuddled me, and I knew I was in for it after that. In the first couple of weeks of the show Joey kept saying to me, "Soon the critics-reviewers will come, and then we will see."
The way she said it really scared me. I had an ominous feeling they would praise the show, but make fun of me or say that I was a no-talent. I think that was the concept she was projecting to my mind, hence I picked it up. It was as if she was angry that I was getting attention (not much yet, this was only the beginning, but you could FEEL my Charisma, or the presence of the Holy Spirit). This intangible presence brought my stardom home to everyone's mind. She HATED me for that, though I did not yet know the extent of her hate. I also knew that the Club had arranged this press showing themselves. They were giving the press the red carpet treatment: free dinners, etc., and possibly were friends with Ken and Joey.
On the night of the reviewers after my show, Joey came back to ask me, with a chip on her shoulder, "Kellie, how do you spell your name and what are your measurements?"
I told her, and she went away to tell one of the reporters.

Nothing came out in any press after that. We all kept waiting and waiting, and I kept asking Joey when this great press would come out. Finally, one day one of the customers stopped me and said he had read a review praising me and knocking the show - he was laughing. I asked him where he had read it, and he gave me the wrong name of the paper. The next day I looked all over town and finally found it in the luxury buildings. It was a free paper. With all their hotshot publicity acumen this was the only press they could muster up. Anyway, here is what it said:
V.I.P. PEOPLE - by Ann Gerber
MINSKY'S FOLLIES AT THE PLAYBOY CLUB ON WALTON IS THE USUAL SEVEN BARE BREASTED GIRLS, ONE MALE DANCER, A SINGER, AND AN AGING COMIC WITH PETRIFIED JOKES. SUDDENLY, THIS SHOW WAS LIFTED TO THE HEAVENS. "HER NAME IS KELLY EVERTS, AND SHE IS 44-21-38" WITH AN UNBELIEVABLY SEXY BODY. KELLIE WRITHES, PRANCES AND STRIPS, EXHIBITING THE LARGEST BREAST I HAVE EVER SEEN ON A BEAUTIFUL FIGURE. FORGET MINSKY'S. JUST GO SEE KELLIE. WOW!
No one else in the show said anything to me except Joey. She kept ranting and raving at what they said about the show, about the comic, and the lack of anything about herself. I kept apologizing. I was shocked! I felt it was a chastisement from God against them for being so rotten to me. That was the only explanation I could think of. I also firmly believe that Ann Gerber felt or saw the presence of the Holy Spirit within and around me and the article would indicate by saying "the show was lifted to the heavens."
Yes, the heavens opened when I went out to do my act. Never before or since, do I think God ever gave me so much light, because never before or since, have I ever needed it so much. You must understand my situation. First, I took this job for much less than my usual salary - one third of what I was getting in a lot of places at the time. Then, after they hired me as the star they did not even put my name in the paper or even announce me as the star - they gave me a very terse, nondescript announcement, as "the most beautiful body in the world." Of course I wanted something to do with God, but they wouldn't hear of it. My next cross was the jealousy and outright persecution of Joey Gordon and anyone she could muster up to work with her - I'll tell you more on this later. And to top this off, my heart had just been totally broken by Mr. Scott, which I mentioned and will explain more about later. Together, with all the other little crosses we have with daily life and personal life, you can really see I needed God's help, and God gave me more than enough.
To compensate for my broken heart, the way I was treated, and because I was cooperating with God's grace in everything He told me to do, God filled me with much light, in particular this showed when I was performing. Every time I got on the stage I did not feel like myself. It was a phenomenon. My act was very short, but it was good. In nine minutes I did everything that a stripteaser can do. Every time I performed I saw much light going out into the audience EVERY SHOW. It never failed. I would visibly see blue, green, gold and white light out there, streaming into members of the audience. They weren't touched by Kellie Everts when they applauded, they were touched by God. I always got tumultuous applause, and the rest of the cast could not figure out WHY. True, they were all so talented and I wasn't. I admitted it to them time and time again. How they hated me. How could they fathom or figure out the supernatural? How could they know that that very hatred they poured out on me caused God to pour into me more GRACE, and contribute to their own undoing. The more they set out to destroy me, the more the Light restored me. They HELPED me to be greater, and diminished themselves. You see why Satan's ways don't work?
You might be asking, in what tangible or outright way did Joey & Co. actually persecute me. To give you an example, she was actually trying to get me fired. It started over a stupid incident about a love affair going on - a triangle between one of the Duggan Dancers, a beautiful blonde bunny and a not-so-beautiful member of our cast. The member of our cast sort of took the guy away from the bunny, and everyone was talking about it. It got so bad that sometimes the bunnies wouldn't wait on members of our cast downstairs, making us wait long periods of time for service. Therefore, there were a lot of comments; after all, it wasn't our fault they fell in love.
One unfortunate day I even approached a group of bunnies that were sitting together relaxing upstairs at a table near my dressing room. I told them that I, myself, as well as members of our cast were sympathetic with the bunny who had her boyfriend taken away, and they shouldn't take it out on all of us because of the actions of one member of our cast. I only realize no, that one of these bunnies was friends with Joey Gordon and must have told her exactly what I said. This gave her fuel to compose a case against me. It happened like this:
None of us new members of the cast had yet met the big-shot manager of the club, but the others knew him from previous engagements. In particular, Joey knew him very well because she lived in Chicago and worked in the club at various times.

One evening, I was sitting downstairs in the lounge with Joi and Sable when one of the assistant managers came up to me. He said that the manager, whom I will call Leek Doball wanted to see me. It was sort of ominous, my friends looked worried. The assistant manager led me upstairs which was like a maze to me, as I wasn't yet familiar with the surroundings. He took me through the kitchen elevator upstairs to the cabaret room. In the cabaret room, all was dark except for the tiny lights that are always on so you wont trip when you walk into the room. I think in the area where the manager was, there was just a little extra light. Along with the manage, Ken, Joey Gordon's bosom buddy were also there. I sensed trouble, and here it came.
Leek was in a drunken rage. He opened up with, "DO YOU KNOW WHO I AM?"
"Aren't you Leek Doball, the manager?"
"I'M THE FUCKIN JANITOR. NOW YOU LISTEN. YOU KEEP YOUR MOUTH SHUT AROUND HERE. THEY TELL ME YOU THINK YOU'RE THE STAR (a recurrent theme), BUT THERE AINT NO STARS IN THIS SHOW. YOU KEEP YOUR MOUTH SHUT. NOBODY TALKS TO THE BUNNIES BUT ME, OR ELSE WE'LL SEND YOU BACK TO VEGAS TO PIMP YOURSELF. YOU GOT THAT? NOW, THERE'S THE DOOR."
That was my first meeting with the great manager. I glanced over at the assistant manager and Ken, and they both looked guilt stricken. I think at that moment, they realized they had been dupes in the workings of a jealous woman, and this was the outcome. The whole thing seemed senseless to me. I left through the door he pointed out and rejoined my friends.
When I told them what had happened, they were both flabbergasted and Joi kept saying that if it happened to her she would pack her bags and leave that very night.
"No," I said. "I'm not going to leave. I have a lot of work to do here and I am going to accomplish my goals. My success will be my revenge."
She was really bitter and kept saying she would leave.

Before long, Leek Doball came down and sat down next to me, practically apologizing. Those guys must have said something to him in remorse. Perhaps that the whole thing had gotten out of hand, etc. Now Leek was saying that the whole thing was caused by these two young kids and everyone else was getting screwed up because of it. He said he was going to FIRE them if they didn't straighten out. For my part I said, "From now on I will mind my own business and all I will talk about is GOD," (and I resolved to do so.)
"And so will I," he said, and left the table.
I was thinking, why should he or anyone else interfere with the love affair of these young people? Did they think they owned us while we were working there? That was another problem with living at the Playboy Club that we soon find out. We slept there, ate there and worked there for three months, and it was like living in a fishbowl. Everyone knew what everyone else was doing, you didn't have any privacy - you couldn't get away. Of course, you could always go out and eat somewhere else, but that would cost money, and I'm sure some people would leave occasionally and stay out overnight somewhere. But other than that, we were in a fishbowl existence.
In the meantime, the threat of being fired hung over me and it continued to loom overhead until almost the end of the engagement. They even tried to find a replacement for me, but they couldn't. One girl showed up to audition and she must have been insane, because she started dancing and stripped in the lobby. She had seen me on television and wanted to be like me. She said she was like me and religious too. They had to throw her out, I don't know what was wrong with her. Perhaps the light hit her and she couldn't handle it. Verna Talbot told me a case about a guy she helped once who kept saying over and over again, hundreds of times, "I want Jesus, I want Jesus."
She said she saw the light of the Holy Trinity, in a sort of triangle over him. But he went "nuts" because he wasn't READY for such light and he actually thought he BECAME Jesus! They had to take him away in a straight jacket! Things like that can happen when people aren't able to handle the graces they receive. Perhaps God is teaching them a lesson - there is no INSTANT PERFECTION - it happens in steps, and you have to work for it.

Another time, I saw two of the managers downstairs eating and conferring, I was on the other side of the small room and they were discussing me - about firing me. You see, I cause great CONTROVERSY because there was so much talk and so much jealousy involved. I was an innately STRONG woman like a rock you couldn't move, and this was a threat to them. They were used to the regular kind of women they knew how to handle. I heard one say distinctly, "But she makes over 1500 dollars a week when she isn't here!"
That was the crux of the problem. I had made a great sacrifice to work this job, so how could they replace me?
There was a lot of fire going on at the Playboy Club concerning me, and twice it took VISIBLE form. I alone knew that it was a visible manifestation of controversy, and I kept my secret to myself for fear of giving them more fuel to fire me. It happened like this:
The first case, I was arguing with one of the managers about the prerogatives of an artist and a star. We were in the lounge where they have the buffet - all the buffet food was close to us on a large table, the hot food being kept heated by Bunsen type burners underneath. This young man was a handsome mulatto who I noticed had his ass kissed a lot by certain white ladies in the shows. It must have gone to his head. (He should have had his ass kicked, not kissed.) He was telling me that whatever the management told us to do, we should do. I told him that the management should have RESPECT for artists and the traditions of artists and stars. In particular, what had happened was that once in a while I would throw a article of clothing out into the audience; men would catch it and I would retrieve it later. Men always like to be singled out this way, and they like talking to you when you go to get your clothes, even if it's just a few words. It is sort of a tradition in stripteasing that this is done, but not always.
One day, I threw my panties into the audience - they were sheer, decorated with sequins, and a man caught them. I knew who he was and went to get them, but he refused to give them back, saying he didn't have them, some other guy had them and he left. I pleaded with him, because without these matching panties I could no longer wear the outfit. Then I went to the management and asked them to get them back for me. They were mad at me for bothering them, but went over and asked him. Again, he said he didn't have them. Can you imagine a guy wanting a woman's panties so much? They came back to me and said the guy didn't have them, but I said, "Yes he does and I HAVE to have them back."
Finally, about six of the guys had to go to the guy and tell him, he better give back the panties or else. He finally gave them back! But they were real mad at me and told me never to throw my clothes into the audience again, which sounds reasonable. It was the WAY they said it that hurt me, without any respect. So, we were arguing about this in the lounge, and this guy started raising his voice at me because, how dare I, a woman, talk back to him!
Suddenly, for no explicable reason, a part of the table where the Bunsen burners were, toppled over. All the food and everything fell to the floor, and the fire kept burning, endangering the flammable items around it. They all rushed over and grabbed everything, so nothing serious happened, but I knew this was a result of OUR ARGUMENT. The incident ended our argument, anyway.
The second time was this: It had to do with the Playboy shooting of my magazine layout. It was the second Sunday we worked. You wouldn't believe how hard I worked to do that article! Remember when I told you about going to the office of Sheldon Wax, Sheldon Wax saying I could have maybe one photo? He then assigned a photographer, etc. Well, the photographer and I worked so hard, did such a good job, and they liked it so well that they used not one, but SIXTEEN photos! Would you believe that? As I said, I made a believer out of my girlfriend Joi. The article would come out later, in the July 1978 Playboy, called Stripping For Christ. It showed a series of photos of my stripping right there on the stage. It was kind of a land mark for Playboy, the first time they ever gave a stripteaser publicity. (Of course, I had been in it twice before, but not for stripteasing. The first time as Miss Nude Universe, the second time as a bodybuilder.) It is definitely a policy with Playboy that they DO NOT feature professionals, only girl-next-door types. The only thing I did not like about the article was the fact that the reproduction quality of the photos was very bad. They did not put all the colors into the reproduction, so it looked sort of blue and red tones. The actual photos were extremely beautiful.
The first Sunday I met the photographer, a young assistant. He had a whole cartload of equipment. We worked about eight hours, which sounds hard to believe, but it was all day. I was on a twenty-four hour fast, only drinking coffee, trying to look good and thin. It was strenuous, but I put my heart and soul into it. It was so important to me. The photographer was also very diligent. At the end of the day's shooting I asked him if we could do some more photos<: (I was not perfectly happy with the way I looked). I felt I could do better another time. He even agreed to that. You must understand that Sunday was my only day off, and I think it was his day off too. We were both making sacrifices. You know how you feel when you have only one day off and you used that day to work. However, I was so grateful to Playboy for letting me do the article that I didn't mind putting myself out.
So we had an appointment the next Sunday also. Again I was fasting, and this time couldn't even get a cup of coffee, as the coffee shop was closed for some reason. I went upstairs to the Cabaret Lounge and ran smack right into Jimmy Matthews, our star comedian and road manager (the petrified jokes one). He was BERATING the photographer, trying to tell him that he couldn't take pictures of me or use the Cabaret before first clearing it with the show! This I didn't like. I told him that Playboy business comes first, and Playboy Magazine does hot have to ask him for permission to use the Cabaret or take pictures of anyone. Besides, I said, you should be a little nicer to me considering how you are paying me to be in your show, etc. He left in a huff, saying something about calling Jerry Lucas. I only found out later that Jimmy Matthews was planning to have a photographer take HIS photos that day in the Cabaret Lounge. If he had only told me, we could have taken a break during our shooting and let him take his photos - but no, instead he had to attack us.
After he left we were working about two hours. I had gotten about a quart of coffee by now and refreshed myself about every fifteen minutes. The photographer had plenty of hot lights on me, and I felt that I looked better than last week; better make-up, and different shoes, which I had bought for an incredible price from Jordan. All of a sudden, something flashed behind me and the photographer jumped - it was fire. The wires from the lights had caught on fire. We both rushed over to put it out. The curtain was made of this metallic-type fringe hanging from floor to ceiling, and some of it caught fire. Our hearts were beating as we stamped away until, thank God, it was all gone. This could have been a TOTAL DISASTER. The whole Playboy building could have gone down! Wow - were we frightened! We definitely could not take any more photos.
After we stamped everything out we hid the evidence as best we could, all the charred remains of things, and had to wash the floor, etc. We put the whole shebang in the deepest part of one of the garbage pails, encased in plastic so no one would suspect there had been a fire. We were both scared to death that we would be blamed and fired.
But the point that I am making is this - FIRE. Every time someone argued with me, FIRE would break out. And it seems that their intention of FIRING me made visible FIRE break out! I kept all this within me, never said a word to anyone, and neither did the photographer. I was able to breathe again when they had the show the next day and no one noticed the char marks on the floor. That is what I went through to get the article done for Playboy. And you know, what gets me is when people are so JEALOUS of my success in publicity. They think it is just LUCK and not WORK. If they put in the work I put in, perhaps they could get some of my success.

I taught my friend Joi a little bit. She had a tendency to be pessimistic, not having faith that she would make it, although she WANTED to make it with all her heart. I told her to keep trying, keep plugging. For example, I told her, you have these very beautiful photos of yourself just sitting here, why don't you send them out to a few places so they can print them.
"Who will print them," she said to me, "they will just throw them in the waste can."
She said the same of MY photos. I was real mad at her for saying that, and insisted that she send them out. She finally did to about two or three entertainment magazines. Wasn't she surprised when a few weeks later her photo, a very beautiful one with a feather headdress, was printed! It was a small thing, but it made her outlook more positive. I recall another magazine printed her photo with the members of the cast, and she and Sable were the most beautiful ones.
Unfortunately, when we both returned to New York after the Playboy job, Joi tried my methods for her own success and they didn't work. I don't know the answer. Every life is different and each person must find their own path of success. She tried and tried for about two years, and still nothing significant has happened. I feel that her color has a lot to do with it. But deeper than that, for some reason, God is delaying the onset of her success. I surmised and told her, that God wants her to grow some more spiritually before it will happen. If it happened now, it might spoil her spiritual development. You know, that can and often does happen. We think success is good, but it isn't good unless we are ready for it. Success is success in God, first of all. Physical or worldly success can lead to great pride, sin, rebellion, luxury, and all sorts of bad things which destroy the soul. Before I reached any measure of worldly success, I was severely tried in the furnace of tribulation. God wanted to make sure that my worldly success did not go to my head. I had to give my life to God completely, and then, only then, did he give me some measure of worldly success. It often is with the good. To the bad, once they have completely given themselves over to the world, God let's them have whatever they want, if they work for it. But what they get works toward their own conviction.
This is very well explained in the book MYSTICAL CITY OF GOD by Ven. Mary of Agreda. In Book III, the Transfixion, is the following, from the last will and testament of Christ upon His Cross:
696. "I CONSENT THAT THE FOREKNOWN AND REPROBATE (THOUGH THEY WERE CREATED FOR ANOTHER AND MUCH HIGHER END), SHALL BE PERMITTED TO POSSESS AS THEIR PEOTION AND INHERITANCE THE CONCUPISCENCE OF THE FLESH AND THE EYES (John 1, 2-16), PRIDE IN ALL ITS EFFECTS; THAT THEY EAT AND BE SATISFIED WITH THE DUST OF THE EARTH, NAMELY WITH RICHES; WITH THE FUMES AND THE CORRUPTION OF THE FLESH AND ITS DELIGHTS, AND WITH THE VANITY AND PRESUMPTION OF THE WORLD. FOR SUCH POSSESSIONS HAVE THEY LABORED, AND APPLIED ALL THE DILIGENCE OF THEIR BODY; IN SUCH OCCUPATIONS HAVE THEY CONSUMED THEIR POWERS, THEIR GIFTS AND BLESSINGS BESTOWED UPON THEM BY US, AND THEY HAVE THEIR OWN FREE WILL CHOSEN DECEIT, DESPISING THE TRUTH I HAVE TAUGHT THEM IN THE HOLY LAW (ROM. 2, 8). THEY HAVE REJECTED THE LAW WHICH I HAVE WRITTEN IN THEIR HEARTS AND THE ONE INSPIRED BY MY GRACE; THEY HAVE DESPISED MY TEACHINGS AND BY BLESSINGS, AND LISTENED TO MY AND THEIR OWN ENEMIES; THEY HAVE ACCEPTED THEIR DECEITS, HAVE LOVED VANITY ( Ps. 4, 3), WROUGHT INJUSTICE, FOLLOWED THEIR AMBITIONS, SOUGHT THEIR DELIGHT IN VENGEANCE, PERSECUTED THE POOR, HUMILIATED THE JUST, MOCKED THE SIMPLE AND THE INNOCENT, STROVE TO EXALT THEMSELVES AND DESIRED TO BE RAISED ABOVE THE CEDARS OF LEBANON IN FOLLOWING THE LAWS OF INJUSTICE" (Ps. 36, 35)
697. "SINCE THEY HAVE DONE ALL THIS IN OPPOSITION TO OUR DIVINE GOODNESS AND REMAINED OBSTINATE IN THEIR MALICE, AND SINCE THEY HAVE RENOUNCED THE RIGHTS OF SONSHIP MERITED FOR THEM BY ME, I DISINHERIT THEM OF MY FRIENDSHIP AND GLORY. JUST AS ABRAHAM SEPARATED THE CHILDREN OF THE SLAVE, SETTING ASIDE SOME POSSESSIONS FOR THEM AND RESERVING THE PRINCIPAL HERITAGE FOR ISAAC, THE SON OF THE FREED WOMAN SARAH (Gen. 25, 5), THUS I SET ASIDE THEIR CLAIMS ON MY INHERITANCE BY GIVING THEM THE TRANSITORY GOODS, WHICH THEY THEMSELVES HAVE CHOSEN. SEPARATING THEM FROM OUR COMPANY AND FROM THAT OF MY MOTHER, OF THE ANGELS AND SAINTS, I CONDEMN THEM TO THE ETERNAL DUNGEONS AND THE FIRE OF HELL IN THE COMPANY OF LUCIFER AND HIS DEMONS, WHOM THEY HAVE FREELY SERVED, I DEPRIVE THEM FOREVER OF ALL HOPE OF RELIEF. THIS IS, O MY FATHER, THE SENTENCE WHICH I PRONOUNCE AS THE HEAD AND THE JUDGE OF MEN AND ANGELS (Eph. 4, 15; Col. 2,10), AND THIS IS THE TESTAMENT MADE AT MY DEATH, THIS IS THE EFFECT OF MY REDEMPTION, WHEREBY EACH ONE IS REWARDED WITH THAT WHICH HE HAS JUSTLY MERITED ACCORDING TO HIS WORKS AND ACCORDING TO THY INCOMPREHENSIBLE WISDOM IN THE EQUITY OF THY STRICTEST JUSTICE" (II Tim. 4, 8).
Now this explains what happens to the bad, but what happens to the good? From the same book:
694. "FROM THE MULTITUDES OF MEN, IN THE FULLNESS OF MY GOOD WILL, I CALL, SELECT AND SEPARATE ALL THE JUST AND THE PREDESTINED, WHO THROUGH MY GRACE SAVE THEMSELVES BY IMITATING ME, DOING MY WILL AND OBEYING MY HOLY LAW. THESE, NEXT TO MY MOST PURE MOTHER, I APPOINT AS THE INHERITORS OF ALL MY MYSTERIES, MY BLESSINGS, MY SACRAMENTAL TREASURES, OF THE MYSTERIES CONCEALED IN HOLY SCRIPTURES; OF MY HUMILITY, MEEKNESS OF HEART; OF THE VIRTUES OF FAITH, HOPE AND CHARITY; OF PRUDENCE, JUSTICE, FORTITUDE AND TEMPERANCE; OF MY DIVINE GIFTS AND FAVORS; OF MY CROSS, LABORS, CONTEMPT, POVERTY AND NAKEDNESS. THIS SHALL BE THEIR PORTION AND INHERITANCE IN THIS PRESENT AND MORTAL LIFE. SINCE THEY MUST CHOOSE THESE IN ORDER TO LABOR PROFITABLY, I ASSIGN TO THEM THE TRIALS I HAVE CHOSEN FOR MYSELF IN THIS LIFE, AS A PLEDGE OF MY FRIENDSHIP, IN ORDER THAT THEY MAY UNDERGO THEM WITH JOY. I OFFER THEM MY PROTECTION AND DEFENSE, MY HOLY INSPIRATIONS, MY FAVORS AND POWERFUL ASSISTANCE, MY BLESSINGS AND MY JUSTIFICATION, ACCORDING TO EACH ONE'S DISPOSITION AND DEGREE OF LOVE. I PROMISE TO BE TO THEM A FATHER A BROTHER AND A FRIEND, AND THEY SHALL BE MY CHOSEN AND BELOVED CHILDREN, AND AS SUCH I APPOINT THEM AS THE INHERITORS OF ALL MY MERITS AND TREASURES WITHOUT LIMITATION. I DESIRE THAT ALL WHO DISPOSE THEMSELVES, SHALL PARTAKE OF THE GOODS OF MY HOLY CHURCH AND OF MY SACRAMENTS; THAT, IF THEY SHOULD LOSE MY FRIENDSHIP, THEY SHALL BE ABLE TO RESTORE THEMSELVES AND RECOVER MY GRACES AND BLESSINGS THROUGH MY CLEANSING BLOOD. FOR ALL OF THEM SHALL BE OPEN THE INTERCESSION OF MY MOTHER AND OF THE SAINTS, AND SHE SHALL RECOGNIZE THEM AS HER CHILDREN, SHIELDING THEM AND HOLDING THEM AS HER OWN. MY ANGELS SHALL DEFEND THEM, GUIDE THEM, PROTECT THEM AND BEAR THEM UP IN THEIR HANDS LEST THEY STUMBLE, AND IF THEY FALL, THEY SHALL HELP THEM TO RISE" (Ps. 90, 11, 12).
695. "LIKEWISE IT IS MY WILL THAT MY JUST AND CHOSEN ONES SHALL STAND HIGH ABOVE THE REPROATE AND THE DEMONS, THAT THEY SHALL BE FEARED AND OBEYED BY MY ENEMIES; THAT ALL THE RATIONAL AND IRRATIONAL CREATURES SHALL SERVE THEM; THAT ALL THE INFLUENCES OF THE HEAVENS, THE PLANETS AND THE STARS SHALL FAVOR THEM AND GIVE THEM LIFE; THAT THE EARTH, ITS ELEMENTS AND ANIMALS, SHALL SUSTAIN THEM; ALL THE CREATURES, THAT ARE MINE AND SERVE ME, SHALL BE THEIRS, AND SHALL SERVE ALSO THEM AS MY CHILDREN AND FRIENDS (I Cor. 3, 22; Wis. 16, 24), AND THEIR BLESSINGS SHALL BE IN THE DEW OF HEAVEN AND IN THE FRUITS OF THE EARTH (Genes. 27, 28). I WISH TO HOLD WITH THEM MY DELIGHTS (Pros. 8, 31), COMMUNICATE TO THEM MY SECRETS, CONVERSE WITH THEM INTIMATELY AND LIVE WITH THEM IN THE MILITANT CHURCH IN THE SPECIES OF BREAD AND WINE, AS AN EARNEST AND AN INFALLIBLE PLEDGE OF THE ETERNAL HAPPINESS AND GLORY PROMISED TO THEM; OF IT, I MAKE PARTAKERS AND HEIRS, IN ORDER THAT THEY MAY ENJOY IT WITH ME IN HEAVEN BY PERPETUAL RIGHT AND IN UNFAILING BEATITUDE."
This great book may be purchased from Tan Books and Publishers, P.O. Box 424, Rockford, Illinois, for forty dollars as of this writing (it is in four volumes.) They also have an abridged version for twelve dollars, as of this writing. The book is also available from the Association of Marian Helpers, Stockbridge, Mass 01262, and also from the Blue Army of Our Lady, Washington, New Jersey, 07882. Each one of these organizations has a selection of good Catholic books, but the best by far is from Tan Books and Publishers. I get almost all my books from them by mail order.
The part that I have quoted here is not all of the last will and testament of Our Lord from the cross. There is much more. He describes greatly what He leaves to Our Blessed Mother, His Mother. How all His treasures are given to us through Her sacred hands, and the rest has more explanations concerning the good and the bad and all creation, etc. You should definitely think about getting this and studying it. It is perhaps the greatest of books besides the scriptures, and to me is a continuation of the scriptures. I have heard about people having total transformations after reading this book. I myself have had some incredible spiritual overhauls when I got done with readings of it. My first reading, which I finished at Christmas, 1978, ended up with my newfound faith in Christ and God. This was infused into me supernaturally after I had lost it for a while. That was the abridged version that I read. The complete four volume version, which I started about January 1980 (I only wrote down when I finished the first volume, 3/3/80) and finished April 16, 1981 ended with THE GIFT OF CONTEMPLATION which enabled me, for one thing, to start writing these journals and end up with my autobiography!
From this great book and from other writings I surmised, the following is in relation to the case of my friend Joi as well as others. First of all, God gives us all that we want UNLESS IT IS BAD FOR US. To the reprobate, who INSISTS on having the things he/she wants, WHETHER OR NOT IT DESTROYS THEIR SOUL, God reluctantly gives what they want. This happened in the case of Judas. Also explained in MYSTICAL CITY is of how Judas INSISTED on being the treasurer although St. John the evangelist, the Blessed Mother, and also Our Lord tried to talk him out of it! He first commissioned St. John to approach Mary and make the bid for his being treasurer, but Mary turned him down, knowing what it would lead to. Finally he went to Our Blessed Lord and our dear Savior and said to him, "Do you know what you are asking?"
Judas, the fool, said yes, he knew and he wanted it anyway. So he got what he wanted and it lead to his betrayal of Christ and his eternal damnation in the lowest pit of hell! That's what happens to people who INSIST on having fame and fortune and the things of the world at the cost of their eternal life. There are plenty like that! They again and again betray the Lord in His principles, only to gain transitory goods! What fools!
Here is where I have a tremendous disagreement with the Protestant preachers who I hear on radio and television and have also read many of their books. They preach too much on the physical and transitory blessings of Our Divine Savior and not enough about the CROSS. The CROSS is the main thing we get on earth and NOT the transitory goods, and yet they keep harping on material blessings and physical health. This is not the way. Yes, He gives material blessings and healing, but not always. Some preachers, and good ones too, ones that I love, indicate that all sickness comes from the devil and God wants all sickness to be healed. This is the tenet of Mary Baker Eddy, and GOOD faith healers of today (whom I love and have sent many donations to). However, the Catholic Church teaches us differently. The Church teaches us that although God permits Satan to afflict us with diseases and other tribulations, it is not always His will that we be healed physically. If that were the case, then all people of faith would be healed, but they aren't. There are cases of people who have become totally transformed after their sickness, complete spiritual renewal and even sainthood, and yet God does not take their affliction away. Take the famous case of Joni Erickson, who was paralyzed from the neck down at an early age and about whom there have been books written and a good movie made. Why isn't she healed? Bishop Fluton J. Sheen talks about the case of a lady in an iron lung for years and years, one of his converts, who is suffering the continuation of the pains of Christ on the Cross. No, it is not physical healing and transitory goods that is our reward from Christ. Only in some cases does he give physical healing, mental healing, material blessings. But most of the time even the good are poor and have sickness and suffer greatly. In fact, the good do suffer more than anyone else in this life. Their joy is reserved mainly for eternity. The evil get the stupid things they want on earth. They reject the cross of suffering, poverty, contempt, deprivation, and live it up down here, receiving eternal damnation.
The renowned stigmatized Franciscan Priest Padre Pio, who died in 1968, was confronted by a blind man wanting to be cured. Father Pio said to him,
"I can either give you back your sight, but cannot guarantee your salvation, or you can remain blind and your salvation will be assured."
The man chose physical blindness to make sure he would go to heaven. Wise choice.
Many of us pray to God to give us things. Perhaps we think "If only I were rich all my problems would be solved." But Our Lord knows better. If your problems would be solved by your being rich, then He would make you rich! It is RICH IN ETERNITY that He wants to make you! He knows what can happen when you become rich on earth - what a disaster it can make in your spiritual life! JUST LOOK AT THE WEALTHY. ARE THEY SPIRITUAL? ARE THEY KIND? ARE THEY CHARITABLE? NO, MOST OF THEM ARE CONTEMPTUOUS, GREEDY, LOVE LUXURY, ARE PROUD AND VAIN AND WOULD SPIT AT THE POOR WHO BEG THEM FOR HELP. And don't think you wouldn't do it! It is an insidious, creeping thing that infiltrates your thinking without you being aware of it. When you are poor, you think if only you were rich, you would give lots of money to the poor. But as soon as you get money into your hands, what have you done with it? How much did you give to the poor? Did you spend it all on yourself, saying, well, God gave it to me so it is MINE? I deserve it, why should I give it away? If the poor want it, let them work for it, let them pray, and let them be good as I am in order to deserve what I got. You see what I mean? And how do I know people do this? Because it is the story of my life. I myself have done this over and over again, but I think each time I learn more about myself and a little more of the evil that is destroyed.
A good example. I am in a church courtyard out of town in Ohio. I am praying to God, "I'm so poor, please give me more money (this was 1972) because surely, Lord, I will help others."
I get up and walk down the street to go to work. Some young ladies pass me - they are selling little flowers for donations for veterans. I just keep going. About a block down the street the Lord says to me, "You said you would help the poor BUT YOU DIDN'T."
I turned around, anxious to give, BUT THEY WERE GONE. It was a TEST and God showed me what a LIAR I was! Do you see what I mean? Do you know a good test to see if you are really sincere about helping others? Give all away that you don't need right now - all your old clothes, furniture, and appliances - to good will, salvation army or someone else. Then, if you have any money, give some real donations for masses and other charitable things, especially to help the poor. Then you are sincere. Otherwise you are lying to yourself. If only people would divest themselves of what THEY DON'T NEED so many poor people would be relieved!
In relation to my good friend Joi, I shared with her the pains of her trying to succeed and getting nowhere. Yes, she got dancing jobs and singing jobs, but nothing that was leading anywhere to the stardom and affluence she was seeking. That means that God will absolutely take her by His own ways, and sometimes His ways are painful. I have walked the painful road and now am coming into success. I wouldn't trade the pains I had for anything in the world. I sometimes even think I could have taken more pain, and now had more blessings, but that is rash thinking. God is the judge who knows how much we can take. Now Joi has been through intensive pain - mostly the pain of rejection. She has worked so hard with singing lessons, dance training to the point of great proficiency, and has spent a ton of money on her career and on her beauty preparation. Several times she has called me in such a deep depression that she was crying. I tried to console her in every way I could. Add to that my own success, for it now seems that everything I touch turns into "gold," and Joi is watching this. However, Joi did not see the years of hardships I had endured. Only in 1971 did my healing start, but I was not yet successful. I was still paying my dues. I paid and paid in money, in pain, in rejection and in failure, up until just recently, when things started falling into place. I would say only in late 1980 did I start feeling that success was upon me, and in April 1981 I KNEW I was a success, in EVERY way, not only spiritually, but in my work on earth.
Joi had not seen everything I had gone through, except for the three months at the Playboy Club. But that was nothing because "I already had Christ so my pain was sweet!" What about when you don't have Christ?! That is total ABANDONMENT, that is HELL!
I have explained to Joi my version of what I think is going on. I think that God is PREPARING her for success. This pain is laying the furrows of success, like the great wound in Our Lord's side which was opened up by the soldier's lance and poured forth abundant graces. We must be wounded, we must be humiliated, we must suffer defeat before we partake of glory. That is the way of the Christian, that is the way of the good. The evil do their own thing, and I want no part of their ways. In pain, God does prepare us for future graces. Be patient. Don't give up. Never lose hope or fall into despair. Work on your relationship with God, I kept telling her. Good will come!

There is a sad note to the story about Sheldon Wax, the then-editor of Playboy, as he was killed, along with his wife and the rest of the passengers on the plane, in the DC-10 crash of May 25, 1979. I lost a lot of people in 1979 - My mother in March, my mentor Verna Talbot on May 11 - Sheldon Wax May 25, my father July 28. That was the year also my daughter ran away from a private school. I had terrible problems with her. I was arrested in Toronto and would not have been able to return to Canada till 1981, I gave 120 sermons at Harlow's in New York - preached at the MUDD CLUB - (would you believe?) - did the Real People Show. There was a big fire in the building I lived in which killed two people, including my next door neighbor, a Lithuanian - to name a few events. In between all this I was also working, traveling and getting on the news, doing lots of interviews, etc. It was an earthshaking year for me.
Back to Sheldon Wax. He had been very good to me. Not only did he put that nice article in with the sixteen photos, but later he put my picture in TWICE, in October 1978, in the letter to the editor section, printing a letter I wrote to him plugging our speech on Our Lady of Fatima in front of the White House, and in February 1979 he put two photos of me in the section The Year In Sex. He even used my photo in the table of contents! I knew he was doing me favors, led by the Holy Spirit, and so, when he died, I was stricken. I immediately went to St. Jean-Baptiste Church in Manhattan and had sixty dollars worth of masses said for him, his wife, and the other members of the plane crash who got killed. I also started a thirty-day novena of prayer for him. It was a terrible accident, and I kept envisioning what he and the others must have went through when they knew they were doomed to die! May his soul rest in peace!
I was just speaking to Joi yesterday and read her some of the things I wrote about the Playboy Club. We both laughed thinking about some of the wild incidents. One thing we really got a belly laugh out of was how she fell in love with the hotshot manager, Leek Doball, and what BOTH of us had to endure on account of her infatuation. It happened like this.
At first Joi despised Leek because of his telling me off, but the next thing you know, she was in love with him. Now why she was in love with him God only knows, but we both figured it this way; when Joi was real young she lived in the south, where, as you know, blacks and whites don't mix. However, they do mix on occasion, secretly. One of these secret affairs happened between Joi and the local sheriff, a real redneck, she told me. The thrill of their escapades, and the forbidden excitement of it all left an indelible impression on her mind. I told her, and she agreed, that Leek Doball represented the same thing that her old sheriff love affair represented; acceptance and love from a white man in authority. She longed for love and acceptance, and Leek Doball loving her would satisfy her need.

This need of hers was real serious in many ways. First of all, it made her sick, physically and otherwise. She couldn't sleep at night, often coming to my room to talk just to make it through the night, and sometimes she would get sick to her stomach and even VOMIT thinking about how much she wanted him! It was getting really bad! To top it off, Leek was married, rumored to be a faggot (though I doubt it) and didn't even know Joi was in love with him. Mind reading was definitely NOT one of his talents.
What to do? I had to help Joi - she was leaning on me. I asked her if he had any inkling that she liked him , and she told me, that he should be able to FEEL it. I told her, you can't expect a guy like that to read your mind, he's a manager, not a psychic, and just because you have strong feelings doesn't mean they are registering on him. She didn't believe me, she thought he knew. I assured her that some way, some how, I would help her get together with him.
It was toward the end to the engagement that this affair came to a head. Her "sickness" for him was getting worse, and there wasn't much time left. One day, I just approached him to talk. As you know, he had told me off fiercely in the beginning, but after that there was sort of a truce, but certainly we weren't bosom buddies. I think he was learning to appreciate me for various reasons, business and otherwise. Every time Joi would see him her heart would beat wildly, etc. I would just sort of laugh. Of course, he had no idea what was going on. So, as I said, one day I approached him and asked if I could speak to him about something. There were people around trying to listen, and it could get back to his wife, so within their earshot I started to tell him about my desire to have him put me on the cover of TOWER magazine, the entertainment magazine which is given out in each major hotel. What goes on the cover is decided only by the manager of the hotel. Usually they had a rinky-dink picture of the bar on the cover. I thought we could do better than that by putting myself on it. The idiotic Minsky show apparently never even thought of putting a picture of the cast of the cover, and two months had already gone by. I knew these things take a few weeks, so I figured if I ask him now there was a chance to get in on it just before we closed. The funny thing is, I would have never really done it unless I wanted to approach him about Joi. It required humbling myself quite a bit before a man that had treated me like a tramp, and now I was humbling myself PRESUMABLY to get my picture on the cover of this magazine, but in reality, in the hope of getting him together with Joi.
He seemed to be so amazed, almost relieved, at my request (maybe he was a little scared of what on earth did I want from him) that he said yes immediately, no problem. By now no one was on guard and listening, so I said, in a slightly quieter, "Oh, by the way, did you know that one of the girls in our show is in love with you?"
He smiled.
"What? No - who?"
"That beautiful girl named Joi, with the gorgeous figure."
"You mean that black girl?"
"Yes, she's madly in love with you and wants to get together with you. Why don't you give her a call?"
"What room is she in?"
I tell him the room.
"Tell her to be there, I'll call her later."
End of the conversation. A girl nearby asked me what I was talking to him about, seemed a bit worried, (she was friends with he wife) and I said, "Just some publicity."

It might occur to you the morality of my move, being that this man was married, and adultery and fornication are supposed to be a sin. I knew this. However, I also knew he wasn't the kind of guy who is totally faithful to his wife, so if he was going to make love to someone it might as well be Joi, who was sick with love for him and needed to be cured of her sickness. It was a touchy situation, and that's how I reasoned it out at the time. What I would do today in a case like that would probably be different - perhaps today I would have the spiritual strength to help such a person without resorting to physical remedies. What I did was in keeping with my spiritual powers at the same time. It was my way of showing my charity to Joi, the fact that I cared enough. I tried every other way; praying for her, with her and over her, and it just didn't work. So the next move was penance, and what a penance. It happened this way:
When Leek called it was to meet him somewhere (some disco), and when she breathlessly went down there, he was already gone. What was he trying to do? I told her that the next time such an "opportunity" came up, I would go with her, and it was soon after that. She was told to join him and his friends in the V.I.P. lounge. We both got dressed up and went there. He was there that time.
I was the one who sat close to him and did most of the talking. No one would suspect ME of having an affair with him. Joi just sat on the sidelines at a loss for words, as often happens when you are smitten. That was what had happened when I was with Mr. Scott, and my girlfriends had to do the talking, but that's another story which I'll finish later.
Anyway, we weren't just joining Leek, we were also joining his hoodlum friends. We would be seeing too much of these lowlifes in the near future. What a group. The lowest, dumbest, crudest bunch of guys I had ever met IN MY WHOLE LIFE, and that's saying some! I knew innately that Leek was with these guys for a REASON. It wasn't for his health. He was crude too, but I think they were even lower than him. There must have been some kind of business dealings. This bunch of hoods always demanded plenty of attention and plenty of girls around, and some of the bunnies actually LIKED them. Then one or two others would be sort of coaxed to come along to do the manager a favor. I knew that if we hung out with this pack we should be making points with Leek, as he wanted to impress and satisfy these creeps, and if we made enough points, he would make love to Joi. I know this sounds strange, but I knew this. He knew he would have to pay me back for this favor. The fact that I was the star of Minsky's Burlesque and the fact that I had a lot of publicity made me able to win more points. If it had been up to Joi all by herself, I don't think she would have had the guts to preserver to the point that she would be with him. That may sound funny to you, but here's what I mean, for example.
The first time we went out with these screwballs, after initially meeting Leek in the V.I.P. room, was one of the most demeaning and boring nights of my life. The whole idea was Leek and Joi had to get together, and this was the prelude. They took us to several places, and each place they carted us around like sexy baggage, more or less saying to all their other friends we met along the way, "Hey, look at these broads we got."
Now, you must understand what state of mind I was in, having just been betrothed to Christ and received his three rings. Christ was shining within me and I was being treated like a whore. Maybe this represented part of his passion, the scourging perhaps. At one point Joi said to me,
"Some of these people must surmise that we are in show business."
I said, "No, they surmise that we are a couple of whores."
True, we were dressed in very revealing fashion. I had on a low cut black sweater, skintight jeans and black boots. Joi had on a see-through black lace blouse. We were both elaborately made up. She looked at me startled but realized the truth of my words.
"Whores are exactly what these guys get off on. They want everyone to think they are big shots who buy beautiful, sexy women, and we are supposed to be the women. We look exactly like what they want."
I recall a few minutes after that when they introduced us to one of their high-class friends and this "man" said, "I want to fuck you."
Now do you get the picture of our penance?
It was at the second bar-disco that Joi wanted to call it quits. She had had enough. I told her we were going to stick it through. I said, "Look, we came here for a reason, to get you together with Leek Doball, and we are going to see it through. It you walk out now, don't you come running to me with how much you want him, because I wont help you anymore."
The problem was that Leek was ignoring Joi, and talking to anyone and everyone but her, which was understandable. When someone is in love with you it kind of gets noticed. Everyone feels it. In fact, even though she hardly said one word to him a few people were saying, "Is something going on between Leek and Joi?"
In order to keep Joi from walking out and getting a cab back to the Playboy Club (which she was about to do) I had to psyche her up with the following rationale, "Of course he's ignoring you. What do you want the man to do, he's married. If he pays attention to you everyone will notice. That will blow the whole thing, and you'll never make out with him. I know he likes you, he told me so. You just be patient and everything will come out."
So she stayed.
Something good came out of this deal for myself also, without my even looking. I told Leek I wanted to dance (a number I really liked had come up) and he didn't dance, but immediately sent someone to "get" me a dancer. A handsome guy turned up who was a disco dancer as a hobby, and after we danced we talked and exchanged phone numbers. That eventually led to one of the most beautiful nights I ever spent with a man. This guy was a YOUNG Mr. Scott. Mr. Scott was already in his sixties by the time our reunion came about. This man was in his early thirties, was a real estate agent for a large firm, had impeccable manners, taste, a good education, a gentleman, handsome, charming, debonair, well-spoken, very light skin, blue eyes, and brown hair. His name was Randall. He had it ALL. Unfortunately, he was also living with a lady and after the first night we spent together she got bent out of shape, so the next time we were together he could only stay a short time.
| | |
| --- | --- |
| | |
It was the end of the engagement, so we didn't have much time together. After I returned to New York I called him once and insisted that he get us a house and we live together, etc. He was flabbergasted and said he didn't know I felt so strongly about it. But also, soon after that I realized ALL my romantic days were over.
Back to Joi and her problem. After our ordeal was over, Joi and Leek finally got together. I don't recall the details, except that there was a lot of maneuvering in which I had to take a part, and he finally went to her room. Before he left the room he said to her the same thing he said to me in the Cabaret during our fateful meeting,
"Keep your mouth shut."
The affair was not over yet. She was now in love more than ever. This was the beginning, not the end in her mind. We had to go through yet another ordeal with the foul-mannered boys. This one was even worse than the last, and we BOTH walked out this time.
They often "partied" in one of the Playboy Club suites, and so we all trudged up to this suite. On the way, they picked up an unsuspecting black hooker in the lobby. I felt real sorry for the girl because after they took her up all they did was make fun of her, and the poor girl was just trying to make a living. Finally, she got wise and left, but not before being severely humiliated. I honestly felt sorry for her, but what could I do? I was being humiliated too. Joi looked like she was ready to cry this time because Leek was in the room with the hooker for a while, I think. The whole thing is sort of some kind of nightmare. Finally, Joi just took off and walked right out of the door, and so did I. After all, I was only there to help Joi out.
All the creeps got upset and begged us to stay, but we kept going. While we were waiting for the elevator, one of the guys ran out and begged us to return, but I told him to send Leek out. He hesitated, but I insisted. So he left and finally Leek came out, and I told him I was sick of the way he was treating Joi, etc., and that's why we were leaving. He looked just a little ashamed of himself and promised to come down to her room as soon as he could get away, and so he did. That was the second and last escapade with him and his boys. Thank God that was finished!
Later on it was revealed to me why my pal Joi went through such a crushing ordeal. When I was taken up with Mr. Scott and he rejected my love, a deathlike depression took over my being. Joi saw it in my face and said, "I would never let a man affect me that way."
God wanted to teach her a lesson - a lesson of compassion.
I must say I felt real lonely and out of it that night myself because I was now enamored with a young man that worked in the club, and Leek sent for him to join us. I was planning to have my own night of love, but he never came. I was highly disgusted.
Yes, I had several "affairs" of my own before leaving the club. At first I was very careful about any type of entanglement, sacrificing sex for the sake of God and the work I was doing. I felt it was tricky to have an affair and be going on T.V. shows talking about God at the same time. It would sap my spiritual state. So I was good for about two months, but toward the end of the two months I weakened and decided to have some "fun."
I recall going to confession at Holy Name Cathedral and saying to the priest that I was tempted to have sex, and I wanted him to help me maintain my chastity. He said he would, but I weakened anyway.
Of the several men I had sex with before I left, only one made an impression on me, the one I mentioned. One other one was very sexy but had no respect for me, it seemed. Two others were duds. I wish I had not done it with them. One other one I tried to make love to was so afraid of me he refused, although he was a great lover and reached a lot of women. He was the lover-boy that started the triangle in the beginning, which I mentioned to you, and his name was Ruffino. He was very handsome, well-built and sexy, although not too much upstairs. However, the day before his show left town I tricked him into coming out of his room, (where he was making love to a girl) and saying I wanted to say good-bye, gave him a big French kiss he could not get out of for a while. You could say I raped him with my tongue. The head of his dancing troupe, Duggan, told me the reason Ruffino would not make love to me was because he was afraid of me. I was too strong a woman. So he was the one that got away.
You might be wondering how a woman who had received three rings from Christ could do such terrible things. The answer is, the three rings did not take away my sex drive. Not right away. They were like powerful SEEDS from Christ which had not yet grown and developed. Now these affairs I had caused me GREAT PAIN in spite of the temporary thrill I was experiencing. I had also great remorse afterwards, except for the one I really liked - Randall. With the other ones I felt USED, like a piece of meat, like I had lowered myself. But with Randall I felt love and respect.
I think God allowed me to meet Randall as a gift, just to see one good one that could have made me happy. Besides an old flame I had about ten years before that, I had never been happy with a man. God wanted to show me that it was humanly possible for me to meet a man I could have been happy with, and I know I could have been happy with this man. It was like God wanted me to have something GOOD to give up, not all duds, which it would be no sacrifice to give up.
At the time of the three rings, I also did not understand the full significance of what was happening. I didn't know what the rings signified, and Christ did not TELL me to give up sex. However, when the virtues started growing I had more power over myself, and could control my desires in a way I was totally unable to before. After all, you can't make sacrifices until God gives you the POWER to do so. In my case, I needed a lot of power to control my sex drive.
I was worrying about what people will think, worried that people will think that if I committed sex sins I must have imagined the spiritual experiences I had, sin and favors from God being incompatible. I need to get into that more, to explain my feelings on this. My life is a good example of a SINNER being saved and graced and restored by God, slowly but surely pulled out of sin, but in steps, not all at once. There is no instant perfection. Why do we need the help of God's grace unless we are SINNERS? God came to save SINNERS, not the GOOD. Do you think God waits until you become perfect before He graces or visits you? That's ridiculous because you become better by His visits, by His graces. You become better by more and more of Him taking over more and more of you. As God enters your being more and more, more and more sin and imperfections are being pushed out. It is a gradual process and, to my knowledge, CANNOT happen all at once. Growth is always a gradual process, physical growth and spiritual growth. Father DePaul and I had a talk on this recently and both feel precisely the same way, that growth takes time, change for the better takes time.

I think that our common conception of saints is that THEY NEVER COMMITTED SIN. True, there have been some saints who never committed any SERIOUS sins, no mortal sins. But, then again, there were Mary Magdalene, a serious sinner and St. Augustine, who had a child out of wedlock among other things. It isn't whether you have NEVER committed sins that counts, it's whether you have REPENTED, made perfect CONTRITION for the sins you have committed. The mark of sainthood is contrition, not total absence of sin. Yes, Anne Catherine Emmerich had only one sin, (that she was aware of) - looking at and wanting fruit fallen down in a neighbor's yard. She felt that this was against the commandment;
"Thou shalt not covet thy neighbor's goods,"
Since committing this "sin" at the age of eight she was consumed with repentance for the rest of her life!
True, Terese Helena Hiffinson, the Spouse of the Crucified committed only one "sin" that she was aware of, and that was at the age of seven merely DELAYING an answer to a call from her mother! If everyone had to be that clean all their life to make it to heaven, few of us would make it - maybe one out of a billion. But, cheer up, friends, there is hope for us. Jesus came especially to straighten out the weak, the ignorant, the malicious, just like me. Yes, St. Thomas Aquinas explains there is malice in ALL sin. Even though I hate to admit it, saying that I've never done things out of malice in light of what he says. I guess I have also thought about the self-righteous and the prudes who will be disturbed that I, who dare say that I was betrothed to Our Lord, had sex with several men within a short period of time. It is truly amazing how self-righteous people can be, even those who are committing THE VERY SAME SINS, who are fornicating and committing adultery themselves and yet are shocked and scandalized when someone else does it! It is because we tend to EXCUSE our own sins and CONDEMN the sins of our neighbor. People see the speck in their brother's eye, but they don't see the log in their own.
I was not sure whether sex was a sin or not. I feared it might be because the Christian Church says it is, but our body says otherwise. There is a biology within us that says you need love. Where do you get it? How do you get it? Sex is one of the main ways people try to share love, but some of us are full of fear about sex. Women are especially hard hit for sex acts because of the double standard. You climb into bed with a guy and he comes up clean and you come up dirty.
In the days of our youth, we fight our worst struggles with the natural urges. Some of us want to be saints. How can we meditate? How can we pray when we are distracted by natural urges? Who is it that is tempting us? Is it the devil or is it nature? Through Yoga and self renunciation, in time we can diminish and even eliminate our sex drive.
People fear revealing their sex lives, especially when they are trying to be taken seriously as spiritual persons. But the truth is we all have to face our human nature. All saints faced powerful human urges. Some were able to become celibate, some were not. Do you have to be celibate to reach sainthood? I wasn't sure at the time, but I think it is important for people like myself to reveal what we know; what we know about our struggles with sex and for God. I will not lie about this. I felt sex was an impediment to prayer. So what do you do about it?
We cannot judge the STRESS factors that cause people to FALL into sin. We don't know how much STRESS they are under, which God alone knows. You absolutely cannot judge from without. Without all may be tranquil, a person may be living in the lap of luxury outside, and total poverty, abandonment within. By the same token, don't judge misery by externals. Some people who are poor are happy. They may be happy within and within is the substantial state of your being. I personally have noticed that quite often, under the most luxurious external circumstances, such as living at the Playboy Club and in Toronto, Canada, etc., I have suffered the most. It was almost like a signpost from God:
"See Kellie. I give you luxury outside, a beautiful place to live, and yet look at your pain. Never judge from the outside. Be happy to live in physical poverty, as long as you have ME."
God abandoned me when I was young. Not when I was a little child. Then I had both God and my physical father. My physical father loved me and also represented God the Creator in my life. When my mother split us up and I no longer had my physical father, a trauma indeed, I quickly also lost the presence of God the Father. At the age of twelve, my faith in God began to waver, something that would have been UNTHINKABLE before. To top all this off, my mother began torturing me, and this external condition persisted till I was sixteen and left home, at which time I was still wounded and sort of "bleeding" from what she and others had done to me.
When I lived on the farm I was quite young and there was little or no opportunity for sex, but once I got older I discovered that men were extremely attracted to me. Of course, they were attracted to me from about the age of eleven, but I did not take them up on anything. Men saw in me an object of what they desired physically, and to me, any attention, any love, was better than no attention, no love. You might say, "Well, why didn't she just control herself, and for the sake of God refrain from having sex relations, knowing it was a sin."
Here you forget one factor, stress. First, God had abandoned me. Second, my mother hated and tortured me, and I had lost my father. I had NO ONE to turn to. I had no relationships to console me, no strong friends or relatives to turn to - nothing.
It wasn't SEX that I wanted, it was LOVE. MEN wanted SEX. As most of you well know - especially the woman - men are into sex. They don't want platonic or spiritual relationships with women. When they like a woman and have a relationship, they feel that sex is part of it, ESPECIALLY if you are young, sexy or beautiful. I recall asking one man, "Don't you ever just have a relationship of FRIENDSHIP with a woman, without having sex?"
And the CREEP said, "Yes, but not with YOU. I could never just be friends with you without having sex. Other women, yes."
That's how ALL, and I mean ALL, men felt about me. The sex itself, although not a goal, eventually became a HABIT. I would rather have been just FRIENDS with men, but they pressured me to have sex. The more you do sex, the more it gets to be a habit, just like smoking or drinking and just as difficult to break! Pretty soon you think you NEED it when you really don't. I was in the HABIT of having sex. It became a pattern, and soon I INTERNALIZED the image that men projected on me, that of a sex object. It becomes a devastating mental pattern. Now I wanted all the best, most handsome, most sexy men, and felt they could not turn me down. I would grieve and cry when anyone turned me down, like young Ruffino at the Playboy Club. It was like Ruffino was denying me food, and I was starving. This would cause me to have fits inside. I even began to think, (what crazy thoughts people can be deluded with) that GOD consoled me for my sufferings by giving me the prerogative to have any man I wanted. It was my RIGHT. See how low you can go? But in my heart, I knew I was a weakling and wasn't strong enough to break the pattern. I knew that eventually, if I kept making heroic attempts, it would happen.
Perhaps you are thinking another thing. Why wasn't I like other normal women who look for a man to settle down with, have a home and children, etc. That thought did occur to me from time to time, but I always dismissed it. First, it was the feeling of worthlessness inside which made me incapable of finding or holding on to the right man. I would treat men like sex objects after a while, the way they treated me. Second, I had had a marriage to a man I was not in love with but had to take care of because of his illness and subsequent death. I hated being married and the thought of being married because I hated being DOMINATED by men, and most men want to dominate. I wanted to be totally independent, wanted to depend on no man, not having anyone support me, make my own way by my own power. I felt marrying a man for money was a cop-out, a sign of weakness; a sign that I didn't have enough guts to face life and make it on my own. Most woman marry with security in mind, having the man support them. If someone supports you, you have to listen to them. Why should I listen to a man when I can work, make a living and do what I want? It was just totally against my way of thinking.
There was one man in my life that I think would have married me, if I had wanted him to. He was a handsome movie star who had been the longtime lover of Mae West and husband of Jayne Mansfield, Mickey Hargitay. We were in love and he was the greatest guy a woman could EVER find in every way: gentle, loving, kind, affectionate, sexy, famous, etc. During our affair I drove by in front of the pink palace where he was still living and I saw a shooting star above. I knew I was to make a wish, that if I wished he would marry me, and I said an emphatic, "NO."

Why? Because he could have made me HAPPY and we would have led a normal, contented life. Why didn't I want that? Because I knew that the HARD way would eventually take me to the TOP - the top in every way, spiritually and worldly-wise. It was like taking a chance on a long shot instead of settling for a sure thing, which did not pay as much. I wanted EVERYTHING. I would not settle for comfort, happiness and security with the perfect man, Mickey Hargitay! I wanted a chance of making it to the top BY MY OWN POWERS, and not with the help of a man! I wanted to prove myself to myself! Men like to prove themselves, so why shouldn't women?
Men to me were never potential marriages, but simply friends. The sex was something I could have lived without, but they always wanted. It became part of the package. Later on, men were only a habit, I no longer took any of them seriously.
There is one sad note to my sex affairs. I think I could have given up sex around 1971, when I was first initiated and totally illuminated with light, but my mentor Verna Talbot kept telling me to be "normal." I told her men were no good and I wanted nothing more to do with sex or men for the rest of my life, and I meant it. Verna Talbot kept pushing me to date. The first two years, after my initiation, I only had two dates. In 1973 I started going out more regularly and the old pattern was somewhat revived. I suffered like a dog. I lost some of my focus and inner integrity. It wasn't worth it. If only I could stop. But lust has a damning effect on the mind. It actually inhabits the power to reason, according to St. Thomas Aquinas.
I think that if Verna Talbot had really UNDERSTOOD me completely she would have known that my path was the path of mystical perfection and that austerities and self discipline were a vitally important part of this development. She thought I was just like herself, but I wasn't. She was illuminated and transformed by a miracle all in one day, all at once, and she never practiced mortification. She had a gift, and she did not have to do anything special to maintain that gift. I was different. Exactly how different I think I will understand later in life, but I know I am different.
That's another gripe I have about sex. People always say it's normal, and it is. Let's have a healthy attitude toward sex, not be prudes. However, someone on a path of spiritual perfection has to, somewhere along the way, might have to give up sex.
The last thing I have to say about sins of sex and weakness in order to combat any of you who feel self-righteous is this: Sins of the flesh are less serious than sins of the intellect. In some cases they can be more DANGEROUS, but they are less serious in the eyes of God. Again, I learn from St. Thomas of Aquinas:
"GENERALLY SPEAKING SINS OF THE SPIRIT ARE MORE SERIOUS THAN SINS OF THE FLESH. WE SAY "GENERALLY SPEAKING" BECAUSE IT IS EASY TO SEE THAT A MORTAL SIN OF ADULTERY IS A GRAVER SIN THAN A VENIAL SIN OF INTELLECTUAL PRIDE. BUT, ALL THINGS ELSE BEING EQUAL, SINS OF THE SPIRIT ARE MORE SERIOUS THAN SINS OF THE FLESH. THIS IS SO FOR THREE REASONS. FIRST, IT IS PROPER FOR MAN'S SPIRIT TO TURN TO GOD AND NATURAL FOR HIS FLESH TO TURN TO THE GOODS OF THE BODY. CONSEQUENTLY A SIN OF THE SPIRIT IS MORE SIMPLY A TURNING AWAY FROM GOD, WHEREAS A SIN OF THE FLESH IS CHIEFLY A TURNING TOWARD THE GOOD OF THE BODY. SECONDLY, A MAN OUGHT TO LOVE HIS NEIGHBORS AND GOD MORE THAN HE LOVES HIS OWN BODY. HENCE A SPIRITUAL SON AGAINST HIS NEIGHBOR OR GOD IS MORE SERIOUS THAN A SIN AGAINST HIS OWN BODY. THIRDLY, THE IMPULSES OF THE FLESH DRIVE A MAN MORE STRONGLY TO THE SIN THAN DO THE DESIRES OF THE SPIRIT. AND THE STRONGER THE IMPULSE TO SIN THE LESS GRIEVOUS WILL THE SIN BE." (My Way - Pocket Edition of St. Thomas, The Summa Simplified for Everyone by Walter Farrell, O.P., S.T.M., and MARTIN J. MEALY, S.T.D. Published by the Confraternity of the Precious Blood, 5300 Ft. Hamilton Pdway, Brooklyn, N. York)
"In view of this Our Blessed Savior Jesus said, "Woe to you Pharisees, the prostitutes will go into heaven before you."
Just a short time after we opened at Minsky's, Mr. Scott came into town with a partner. He was much older by now, but still handsome and dashing. In fact, I was a little appalled by how old he looked in his sixties. I loved him as a person, not for just sex appeal, so my feelings were the same.
Before he arrived I had a conference with my two friends, Joi and Sable, and asked them to help me all they could. I was in a frenzy and practically speechless when we talked on the phone. I feared making a complete fool out of myself. They promised to stand by me and do what they could. I got him a suite of rooms in a very expensive nearby hotel, the Playboy was booked up. I think the suite I booked him cost about two hundred dollars a night. I forgot to ask the price when I booked it and just took the best they had. He told me later, a little surprised, but he was a millionaire. I figured, so what?
I know I told you about the DREAM I had which indicated in a symbolic sense exactly what would happen, and that Christ fortified me with the three rings, etc., but that which we know in a mystical manner still remains to be acted out. In a similar sense, Christ knew from the moment of His life's beginning that He would have to suffer His passion and death, and everything that it would entail, but He still had to live it and it hurt. The same thing happened to me. In a mystical sense I knew what was coming, and the scenario unfolded before my eyes, with me as the principal character.

He was amazed by the change in me. We met right after our show (he first watched us perform). Then I changed, Sable and Joi joined me, and we went to meet Mr. Scott and his friend. The first thing Mr. Scott said was how amazed he was by my presence on the stage, how overwhelming I was. I guess he saw the Light too. I was rendered speechless again, and barely managed to introduce my friends with any aplomb. We went into the V.I.P. room where a fine dinner would be served to us on a glass table with all glass utensils. The room was dim and lit by candlelight. A very romantic setting, and my darling MR. SCOTT was treating us. It seemed like dozens of waiters were hovering around us, but my mind was focused on Mr. Scott and all else faded out. I couldn't eat. I lost my appetite completely, and ordered only salad. I had a strange sense of not being worthy to have him buy me a whole dinner.
Mr. Scott did most of the talking. I had begged Joi and Sable to make up for my speechlessness, but they weren't any help. They hardly spoke either. Only the partner piped up when I wished he would stay shut. Mr. Scott was talking about a movie he had just finished filming which starred RICHARD BURTON. I said, "And what was your capacity in the production of the film, Mr. Scott?"
He smiled and said, obviously pleased with himself, "I was MR. BANKER."
We all laughed.
"Do you still have a Rolls Royce like you used to?" I asked.
"Now I have TWO, and they are MUCH BETTER ONES than I had before. One is worth $68,000."
"Do you still have the townhouse in the Hollywood Hills?"
"Oh, no, now we have a big estate in Bel Air."
And on, and on, and on. My mind was swimming with the thought that Mr. Scott was the answer to a girls prayers. If only he would help me. A man in his position could REALLY HELP someone, not with just cash but connections. There's a hundred things he could have done for me, if he had wanted to. For the moment I had forgotten our past love affair where he never invited me to parties where important people were. I was his private property, not to be shared by anyone else. I was thinking that things were different now. I had changed. I was a new woman. I was reborn, and a more worthwhile person. Maybe he had changed too. Maybe now he would appreciate me more and extend a hand in helping me, for old times sake in nothing else. Maybe now he wouldn't be ASHAMED of me because, after all, I had grown in stature in the eyes of the public, publicity wise anyway. Maybe God wanted us together now, because the Light TOLD me to contact him! All these thoughts were swimming through my head.
There was another show, so the men had to go to their hotel, and I promised Mr. Scott that I would join him later, after we did our second and last show for the night. (We did two shows a night and three on Fridays and Saturdays. An easy job as
far as that goes - for me, anyway.)

I asked Sable to go with me because I needed her support. Little did I know then that she would help me in a MYSTICAL manner, without even being aware of it. Many of us have powers we do not know about. (In exchange for that, about a year later, Mary rewarded her with an xtraordinary grace of bringing Sable to the Blessed Virgin Mary, deeply inspired with light, and a short time later received a letter from Sable saying she thanked me for teaching her about Our Blessed Mother, and she sent me a gift!)
We went to Mr. Scott's suite and for a while talked in the living room. Then Sable stayed watching T.V. and I went into his private quarters, another large room with two beds. We started talking, and talked and talked. I did 99% of it, and what I told him was about my miraculous spiritual transformation, how Christ entered into me and what He had done for me and changed me, and also about the recent experience of the three rings. Mr. Scott was in awe. We were talking about four or five hours. When my story ended there was something said about staying overnight, but Mr. Scott added, "I can't make love to you because I think you are a saint."
"I didn't say I was a saint."
"Yes, but why is there a LIGHT ALL AROUND YOUR BODY?"
Now that should have been my exit line, and "hope to see you when you return in two weeks" (which he said he had to). HOWEVER, I was totally under the assumption that Mr. Scott and I had to be together and maybe get married, so, I insisted that we have sex. That was a big mistake, spiritually, and would be one of the reasons I would suffer so terribly later on. He didn't really want to have sex, but gave in. In fact, he did say something funny, "I was planning to come here to give you a big bang, and then you told me all this, and now I'm afraid."
After we made love we went to sleep - he in his bed, and me in the other. After a short time of rest I heard my inner voice saying to me,
"It's time to leave," but I couldn't get up. My infatuation with Mr. Scott, plus my grogginess in the days when I needed an abnormal amount of sleep, riveted me to the spot. A few minutes after I heard that call I heard the front door open and close. Sable apparently waited for me, went to sleep, woke up and was leaving. She was HELPING me.
As soon as Sable left I felt something leave me. It was A NORMAL WOMAN'S STRENGTH. A woman who knew she was a woman and had certain prerogatives such as, for instance, being treated decently and respectfully by a man, being helped and supported by a man if necessary, etc. While she was there this strength of hers, which I for some reason did not have, was extended into me, and when she left, I was empty.
After she was gone I felt totally helpless and vulnerable. It is the Light and that alone which makes me strong. Strip me of that, and it is curtains for me. You might be asking, well, why didn't the Light help me? Because I had stepped out of the boundaries of my office as an instrument. I was now a woman, with a man, and I had just committed adultery. I was alone. The Light wanted me to learn a lesson. The Light still WARNED me to try to spare me some of the pain, but I wasn't wise enough to listen. I'd learn later on.
When we got up, got dressed and ready for breakfast, I was FRIGHTENED. I KNEW I was in for it, but hoping against hope that all would go right. Mr. Scott asked me what kind of a GIFT I would like. I said I wanted an engagement ring signifying to me that if he got divorced from his wife, he would marry me. He looked puzzled, amazed, and said, "Why not?" Then he added, "What kind of an animal do you like?"
I said, hoping he wouldn't give me an animal,
"A horse."
That took him aback, too.
Now we went to meet his partner, a man all us girls hated, and with good reason. He would now decimate me.
While we were eating the partner asked me what I had lived, and I gave a list, which included Newark. He smirked with disdain and commented, "The FUN places."
I felt like an outcast, totally out of my league, straining to be one of their social class. It is appropriate that I was wearing my Lady of Mount Caramel, brown cape and a BLACK dress. It was my funeral.
I never saw Mr. Scott again. He said he was coming back in two weeks, but if he came, did not call me. In the meantime, I blew all my money in getting a new wardrobe to be worthy of him. I called him several times and he refused to speak to me. A fatal depression took over my mind, the lowliness of which was equal to the height of my former elation. This depression lasted for WEEKS and Joi saw it. I was able to function and perform and do all else, but without supernatural help I don't know what would have happened. God's grace kept me from collapsing. Of course, he gave me nothing, no gift, no call or letter , ever again, except this, from his secretary. I still have the letter.
After I returned to New York I decided to give him one more chance. That's the kind of optimist that God has made me. I wrote him a poignant letter, asking him to still be friends with me and help me if he would. It was a beggar asking for alms, in the name of God. This is the answer I got, postage due:
October 18, 1978
Dear Ms. Everts:
Enclosed please find the envelope you recently sent to Mr. Scott.
Mr. Scott has semi-retired and is presently in Europe on an extended trip and not expecting to return until March or April and possibly even later.
Since I am handling his affairs and am unable to help you would you like the material you sent returned to you
Very truly yours,
X X X Personal Secretary
of Mr. Scott

I knew the secretary from way back when we were having the original fling. It must have given her great pleasure to execute that letter, presumably under orders from Mr. Scott. She was a young pretty girl who was his secretary years before I met him - a real fixture.
What added insult to injury is that not only did she return my letter, but it was postage due. I even had to pay for this insult from the millionaire!
In the spectacle of watching myself totally rejected by Mr. Scott, Christ was speaking to me. He said,
"I AM YOUR MAN. YOU NEED NO MAN BUT ME. HE HAS ALL THE THINGS OF THE WORLD, BUT I AND THE CREATOR, AND I LOVE YOU. SEE HOW MORTALS ARE? DO YOU WANT THEIR LOVE AFTER THIS? I WILL NEVER LEAVE YOU, NOR HURT YOU. CLING TO ME, NOT HIM. REMEMBER THE RINGS I GAVE YOU? SEE, I DID NOT REFUSE YOU, BUT MR. SCOTT DID. YOU DON'T NEED ANYONE ELSE BUT ME, I REALLY LOVE YOU!
| | |
| --- | --- |
| | |
Yes, the purging I got through Mr. Scott was an added break with the world and with men. Why couldn't he just lift one little pinky to help me? Even a consolation prize? Because god didn't want him to. God told me to contact him, knowing, by the force of my own personality, weakness, his desires, the turn of events, etc., exactly what had to happen and be REMOVED from my thinking. He had to hurt me, and badly as a great lesson, grace from God. God wanted me for HIMSELF. That's why I was always ostracized everywhere and by everyone rejected and hurt, because the more this happened the closer I came to God. God was taking me into the desert of solitude, away from people - ALL people - where He could have me alone in CONTEMPLATION.
Isn't that what happened?

All this pain had to have a fitting climax, and it did. the hate from Joey & Co. had been building up for three months now. They longed to manifest it, and I longed to receive God's love. Both could happen at the same time.
In order to tell you the complete story I have to explain a bit about Derrick Daniels, the President of Playboy Enterprises. Derrick Daniels was such a big deal that even Leek Doball could have had cause to fear him, he could fire anybody. And he did, shortly before we arrived, getting rid of forty employees in a purge. I met him and liked him, and one day, when he came in to see the show with his wife, I went over to sit with them and talk for a little while. This made Ken and Joey & Co. nervous, because he was too important for me to be friends with and influence. They must have said things to him about me, because after that he avoided me. In the scene I will describe, Derrick Daniels takes on the symbolism of a Pontius Pilate, one who knows Christ is innocent and being persecuted by His own, and is able to stop it, but wont. And why not? Because he is a consummate politician, he wants votes, not truth. While I was talking to Derrick Daniels I know he sensed something different about me, which made him wonder, but he did not understand it - which is like saying, "What is truth?" when you are faced with it and going back to the chicken entrails.
Shortly before this, our last night, I was praying and was influenced by God to pray for the "crowning with thorns," which I did,
"Lord, let me know how you felt when you were crowned with the thorns."
They told me that the last night was always "comedy night" where anything goes. I wanted no part of it, not because I don't have a sense of humor, but because I don't like THEIR kind of humor. They were all making plans which I presumed I was no part of. Even my best friend Joi was part of the plan concerning me, unknown to myself, and in the following scene she will take on the person of St. Peter when he betrayed Our Lord.
When I came to the dressing room that last night I noticed in the kitchen several large cartons with pies.
"Oh, boy," I thought. "How hungry I am, and how I'd love to have some pie. But they might not invite me to their party."
They did.
Never did I know that any of the male waiters hated me, but apparently they did. They will be, in this scene, the soldiers who put the Crown of Thorns on Jesus and mocked him.
Out in the audience the place was packed. I had friends out there, too. In particular, Vicki Witt, the August 1978 Playboy centerfold, who had become my good friend. She was sitting with her fiancee. They represented spectators of love, possibly saints. But those who really loved me that night were few in number - just a handful, the rest were either haters or the indifferent.
When I came out they gave me a very insulting introduction, "And now, ladies and gentlemen, the lady with the largest breast in the world."
The announcer was the gay lead male dancer who, together with his boyfriend, went around ripping up my publicity that I had sitting around the lounge in stacks. No doubt he was jealous of my breasts and wished he could have them.
I came out and now, while my music was playing, was also the sound of a FLUSHING TOILET, over and over again. It was so embarrassing that the audience honestly did not laugh much. There were a few laughs, but people sensed there was something sinister about this whole thing.
Pretty soon there was raucous laughter, for some unknown reason. I turned around, and there was my best friend Joi behind me, mocking my movements. Oh, how embarrassing, and she looked ridiculous. I felt sorry for her, but for the moment she felt she was in the spotlight - the spotlight of the star. That was her weakness that they got her on - wanting to be a star. It hurt most of all because she was my closest friend, had stuck with me through thick and thin for three months, and now, this. She was just weak.
My whole show was totally ruined and I got off, highly embarrassed, to very weak applause for the first time since I had been there, but the worst was yet to come. It was when we took our bows. I was the last to bow, and I came out in a gorgeous white bridal-type negligee, flowing and lacy, with the top cut out so my breasts are exposed. After my deep bow, for the last time at the Playboy Club, there comes a waiter out of nowhere and bang, right in my face I am hit with a pie. Now if any of you wonder how this could be so terrible, just believe me, it is really humiliating. Then, bang, another waiter comes flying at me, this time hitting me in my breasts. I can't recall if it was two pies or more, but I was covered with that cream all over, my wig and face, my breasts, and my white gown. It felt ludicrous, and one of the bunnies, who I thought was my friend, said,
"Smile."
She took my picture. I felt shaky inside, as I walked right past Derrick Daniels to my dressing room, not a word of consolation from him.
There was a strange feeling in the air now. Everyone sensed it. Joi came back crying and apologizing, knowing she had done wrong, but saying she was duped into believing it was alright. I forgave her. My friend Sable came back to console me - she represented Our Blessed Mother, in view of her acceptance of Mary later on. Vicki Witt came to offer condolences. The three of them just stood there, while I tried to get the gook off. Joey Gordon was pacing around, real nervous, asking if I needed a towel or any help. She must have felt really guilty. I was calm but felt STRANGE inside because it wasn't only an external experience, but something happened inside of me. That was the grace that everyone felt. I KNEW now, in a way I had not known before, although not in that intensity, what it felt like when Our Lord was crowned with thorns. It is hard to explain now. It is like you come with only love in your heart, and they all make a total mockery of you, and you feel like crying. I felt like crying not only then, but the rest of that night.
I packed up and went back to my room, and just rested with that eerie feeling over me. Joi came over and told me they were now having their cast party. It would be a nice gesture if I could come. I told her I felt too sad, but she should go if she wanted to.
She did, and had a very strange evening. The well known comedian, Pat Henry, was there to liven up things. We had met him before hanging out with the foul-mannered boys and he took a great liking to me. He kept saying over and over again,
"WHERE IS THE STAR (me)?"
When no one could find me he called Joi up to the stage, knowing she was my best friend, and sang a special song to her.
She said that she felt like she was ME that night, and they were giving her the respect and recognition that they should have given me all those three months, but didn't. It was a strange ending for a strange engagement.
And that was the Playboy Club in 1978.