THE ANOINTING OF KELLIE EVERTS
BILOCATION, LIGHTS, CHANGE OF HEART, HEALINGS
SPIRITUAL POWER OF KELLIE EVERTS (RASA VON WERDER) IN THE 70'S.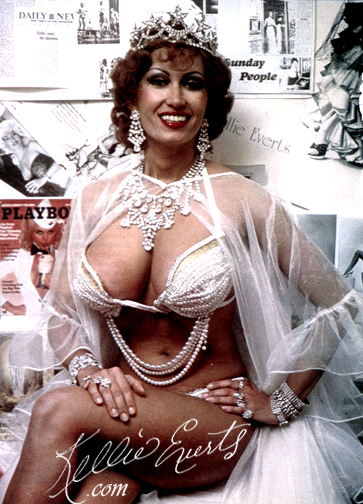 SPIRITUAL EXPERIENCE OF OCTOBER 3, 1976
EXPERIENCED BY ROBERT PAZ. BROOKLYN, NEW YORK.


Robert Paz worked with Kellie Everts at the youth agency run by the City of New York at 464 Broadway, Williamsburg, Brooklyn. The following example is a testimony to Kellie Everts as having the gift of bilocation.

I was sleeping. I got up to go to the bathroom. When I came back Kellie was sitting in the sofa chair, left leg crossed over the right leg wearing the dress she wore in the preaching picture, only white - black hair. She looked solid illuminated with light as if from the back, all around the body.
I said, "Kellie - Kellie? How did you get in here?"

She said, "Robert - (using fingers) two are one - one will divide into two - two will give birth to three - and three will beget 10,000 things."

I told Kellie - "I'll be right back." I went into the bathroom, and splashed water on my face, came back, and she was gone.

OCTOBER 8, 1976

Robert Paz sees a cross next to me in the office. He has been seeing it since last night. The cross is white. He sees it continuously. (On & off)
---
---


TESTIMONY OF BILOCATION
FROM JACK, NEW YORK CITY 1979

I met Kellie Everts in 1974 when she had her preaching television show. I went to her house several times for prayer meetings, was highly inspired and saw visions while she was praying. But the most extraordinary vision or experience I had concerning Kellie Everts happened after I had not seen her for about a year, in 1976. I have always been gay, and have never had any sexual interest in the opposite sex. One night, as I was sleeping alone in my room, Kellie Everts appeared to me and made love to me. It was the most glorious experience I had ever had. I said, "If this is what it feels like to make love to a woman, I will make love with women from now on." And from then on, I became attracted to the opposite sex.
---
---

LETTERS OF TESTIMONY

New York. July 2, 1975

I don't know where to go or what to believe; and somebody with some problem after talking to you only a couple hours, was completely different; and now he is another person.
---
---
VISIONS FROM TOM BIRD, ACTOR
NEW YORK. MARCH 1978

I put a photograph you sent me in a frame and put it on my bedroom dresser. It is the one with Christ in the picture. I've been praying to that Christ daily. (Editor's note: The photo is a publicity photo of Kellie with the Sacred Heart on the wall above her). Well, last night, in the middle of the night I woke up and it was dark in the room and I was attracted to the photo on the dresser and to my astonishment your breasts were aglow with a bright light. I kid you not. It was amazing.


MORE FROM TOM BIRD. VISION APRIL 8, 1978

I saw you. I saw your physical body. Your physical body vanished and there was a very bright, see-through clear white light in the shape of your body - contained in the shape of your body but shining out of your body. Then I saw your heart - pumping - beating, cardinal red, very bright red. It was pulsating, beating, pumping, then it disappeared.

ANOTHER VISION FROM TOM BIRD

I was feeling Kellie's breast. There was a jolt in my heart. Next thing I know I was in an all white chapel - there was a choir singing. Kellie was on the altar in a flowing white gown. I came up to the altar - there were gates around the altar. I was dressed in a light blue suit. I gave Kellie a ring, silver or diamonds, sparkling. I gave her the ring from the opposite side of the gate.

Regarding the ring, I felt it was my duty to bring her the ring. She took it into her left hand. I was waiting for her to do as she chose, waiting.
---
---


ANGELA ASTONE : VISION OF KELLIE EVERTS
A GIFTED PSYCHIC FROM NEW YORK. APRIL 21, 1977

I was up in no particular time or place and I saw a vision of you that became more and more vivid with bright blue light surrounding you, and I said to you, "Kellie, you are very spiritually elevated. You have reached the height of spiritual evolvement. You smiled at me, and you said, "Thank you."

Then you disappeared slowly and you seemed very happy. You had fulfillment about you - you had an absolute youth and innocence and you were on your way to new beginnings. As you disappeared, the light remained. You were suspended on a plateau, and, disappearing, you turned into light.

---
---

TESTIMONY FROM: ADULT MALE
(NAME WITHHELD BY REQUEST)
BRONX, NEW YORK. SUMMER 1976

Last night I wasn't very tired as I'd not done much work on the job or home. I read, twisted and turned, looked at some magazines, drank some C & C Cola, refilled my vaporizer (he has asthma) and tried to fall off to sleep again to no avail. I was filled with thoughts about school, my children, my wife, (to whom I've developed an indifference to, somewhat); I've something of an on/off attitude as a result has come to pass.); My thoughts drifted to lust with a former girl friend. I analyzed it and decided it was simple lust and no more. We could be friends, though. Still no sleep. I thought about you (Kellie Everts) in a fashion that I don't understand. I was in bed and imagined or dreamt (not sure) that you were in bed with me. I was on my right side, right hand and arm under my pillow and you had your left arm around, or better yet, over my waist and was holding my hand. I fell asleep like I was dead. Everything vanished from my mind. I woke up, looked over (to the right) and saw you as you appeared in the preaching on television picture only your eyes were closed. You were asleep. I turned back on my pillow and went back to sleep as peaceful as a baby.

Would you believe that even my sinuses cleared up?

Just between you and I, are you an angel? I believe you really were affected by something and that something affects other people. Who would believe that a glamour queen could (seemingly) perform miracles?
---
---

FAITH HEALINGS
APRIL 17, 1977

When I was working in the factory (about two weeks ago) my ear began to hurt, and I was thinking about the light like we prayed with Miss Kellie one night. I was saying, "God, please make the pain go away." In a little while, it went away.
Nicky Baglivo
Brooklyn, New York.
Age 17 (then)


APRIL 8, 1977

My arm was hurting from baseball and while we prayed to God's light my arm seemed to get inflated and then it shrank again, and the pain was gone. (While we prayed with Miss Kellie)
Alex Lonzon
Brooklyn, New York
(Age 13)
---
---

TESTIMONY FROM JOI LENOIRE, ENTERTAINER
DATED APRIL 30, 1978

During my engagement at the Chicago Playboy Club with the Minsky's Follies commencing January 9th to April 1st, 1978, I had the opportunity to meet Kellie Everts. Through getting to know her I discovered that she is mystical, supernatural, and absolutely and instrument of God.

Upon several eventful occasions I felt the presence of God / Light.

• While praying on Sunday evening with Kellie in the hotel room, suddenly the room became very bright and I started to cry. I felt as if I had no control over my feelings. I started to feel very light, like a cloud. As that point I realized that I was in the presence of Light / God.


• Several times as I watched Kellie's entrance on stage, I saw light around her and had the feeling of God's presence as I watched her performance.


• Many times Kellie and I prayed together. The most fascinating thing I have ever seen was how she would go into a *trance* and *talk to me through the light* and the powerful effect or influence it had on me.


Through communication with Kellie, I am now closer and most aware of God every minute of the day. Kellie is indeed supernatural, and absolutely an instrument of God. My life has changed tremendously since I met Kellie, she is the greatest. I am so happy, and I feel so peaceful... I am with God.
Thank you, Kellie
Joi Lenoire
P.S. I Love You
---
---

TESTIMONY FROM HONEYSUCKLE DIVINE
BURLESQUE COMMEDIENNE . WASINGTON D.C. JULY 1978

I became a student and a disciple of Kellie Everts after seeing her on a T.V.show. I was once a postulant for three months in a Philadelphia convent, and I was impressed by the spiritual qualities of Kellie Everts.

I believe Kellie Everts is a Living Saint, and her closeness to God can't help but cause me to love and admire her, even as I would love and admire St. Theresa, The Little Flower, or St. Bernadette, if they were alive today, or if I had been living in their time. We are very privileged to be living now, in the time of Kellie Everts, and I will do all I can to help her in wonderful works of charity.
Honeysuckle Divine
(Burlesque Commedienne)
---
---
EFFECT OF GOD'S LIGHT REACHING YOUNG PEOPLE
THROUGH KELLIE EVERTS

FEELINGS & EXPERIENCES DURING PRAYER SERVICES AT KELLIE'S

APRIL 18, 1977

When Miss Kellie started her Daughters of Light club she invited me to join, and to come to her house and pray. I started coming to her house almost every day.

When we were praying I saw golden lights, very beautiful, and I felt so deep in the light, a heavenly, wonderful feeling that I cried. I feel happy and I wish to stay in the light.


APRIL 21, 1977

Miss Kellie was praying. I saw an angel flying, and a big ray of light hitting the angel. I felt happy, I was crying when I saw the angel.
Ana Auilda, Age 17
Brooklyn, New York

APRIL 23, 1977

I was thinking of Love, God, Love again, the Light of God, over and over. Then I saw black and after that I saw purple dots of light, big ones, then blue, then suns shining yellow, then beams of green light. I felt deep in another world. Didn't feel my body at all. I was up.
Vivian Vazquez
Brooklyn. Age 12


APRIL 2, 1977

I felt like I was floating in air, around and around. It made me feel good, like I was getting into the light, a feeling of pure love.
Joseph Baglivo
Brooklyn, Age 17

APRIL 21, 1977

The light told me to be good, obey my Mother, listen to my teacher.
Eddie Manzano,
Brooklyn, Age 13


TESTIMONIES OF YOUNG PEOPLE CONTINUED
EFFECTS DURING PRAYER SERVICES
PRINTED MARCH, 1974

I closed my eyes when Kellie told me to and I was shaking when I saw a bight white light far away and it kept getting closer and closer until it filled my whole mind.
Letty Gonzales, Age 8
Brooklyn, New York


I thank Kellie Everts for helping me and opening me to the Light of God. Since Miss Kellie opened me to the Light of God everything in my life changed and now almost everything is going right for me. My eyes are opened wider and I can see things better thanks to the Light of God. I asked Miss Kellie to pray for me throughout my stay in the Marines and she helped me a lot. Now I have successfully completed my difficult training. I saw a light that went right across my eyes. It was the same day that I asked her to open me into God's Light. That night before I went to bed after I put out the lights I saw a bright light from Heaven and I know it was from God.
Victor Viera, U.S. Marines
Brooklyn, New York.

APRIL 21, 1977
I felt the light. It told me to listen to my teacher and my Mother.
Angelo Gonzales, Age 8
New York