THE MAURICE SEYMOUR STORY
Body Building Photoshoot of Kellie Everts 1981
Kellie Everts was six years old. Her name was not Kellie then - it was Rasa. She would not be Kellie until Hollywood called. She was sitting in a Victorian mansion in upstate New York looking at a BOOK. It was the most beautiful BOOK she'd ever seen. It had her Aunt's inscription on it - Dagmara......1951. This was the first time she saw THE BOOK and she gazed at it hundreds of times over the years, her mind lost in fantasy. It was ballet; the most beautiful ballet she had ever seen. It made her yearn to dance and be beautiful. Rasa's family were all steeped in the arts. She grew up listening only to classical music and opera, and ballet was a must. The family was not wealthy because they left behind everything in a Communist country - Lithuania. Her parents and siblings ran for their lives to Germany, where Rasa was born. They left property and position behind, but intelligence and culture go where you go. This was handed down to Rasa.
Why was she in a mansion? Because her aunt worked there. This was one of the families that sponsered them to come to the United States. One family took Aunt and Uncle to run their estate of kids and horses, while another family sponsored Rasa's parents to join a Lithuanian community in the city. Her Dad had been a Professor and founded the first State Teachers College in their country, but in America he worked in a factory. He organized, for the Lithuanians, a weekend school for the teaching of all subjects, including their native history and culture. This was conducted in the Church auditorium.
At the age of six, Rasa first saw THE BOOK of Maurice Seymour's ballet shots. It belonged to her Aunt Dagmara, who lived and worked here with Uncle Henry. Sweet memories at the Victorian mansion in Waccabuc, New York. (In recent years, Bryan Gumball bought the house and lived there for a while.)
Rasa stared at THE BOOK for many years, and then shared it with her daughter, Vivian, who was taking ballet lessons. Eventually, the kind aunt gave THE BOOK to Vivian, and so, it was now in Rasa's apartment in Brooklyn. She couldn't believe her luck! It was priceless to her. Her daughter eventually moved away to start her own life, and now, Rasa owned THE BOOK she'd known since the age of six.
The photographer must be very old, Rasa thought, and far away, as his origin said Chicago. Meanwhile, Rasa had to have publicity pictures taken in New York. She went to a large, prestigious studio called Kriegsman's. Everyone knew it. And everyone, from Frank Sinatra to Marilyn Monroe, had been photographed there.
She had a lot of publicity shots taken, but in 1979, she wanted something really special. It was for bodybuilding. No one there had ever taken shots of a bodybuilder before. The owner recommended an older man, a Russian by the name of Maurice Seymour. Rasa, now Kellie, liked him very much. He took pictures with a camera that used an 8 by 10 negative. The huge lights were changed, and the negatives changed, FOR EACH PHOTO TAKEN. It was an expensive proposition and Kellie was prepared to pay.
This venture would take two days of work. Mr. Seymour made special time on the weekend. As they chatted day one, Kellie asked Seymour if he'd ever heard of a Seymour in Chicago, who did a book on ballet, published in 1949.
"I am that man,"
he said. Then he told her a sad story. He had no more copies of THE BOOK because the last one he had loaned out was never returned. Kellie pondered.
On day two she arrived with THE BOOK. She handed it to Mr. Seymour. She said,
"I give this to you. It means a lot to me, but it must mean even more to you. It's yours."
Maurice Seymour took THE BOOK gratefully, and without thinking, sort of off-the-cuff, said,
"I didn't think a person LIKE YOU would have a book LIKE THIS."
The words stung. Many years have passed since 1979 and Kellie has lived without her precious book. But God is good. Recently, her wonderful webperson searched for it on E-Bay and found it! It is about to arrive from Canada now. When it does, we will show you some of the most beautiful photos from it.


TRAINING IN 1983
THERE IS MORE THAN ONE WAY OF WINNING

The preceeding photos are Kellie Everts training for a contest at Caesar's Palace in Atlantic City. A woman named Doris was now the gatekeeper of the contest. God only knows where she was between 1972 and 1977 when Kellie Everts singlehandedly promoted female bodybuilding. This woman, born around 1931, said she had been training for 25 or so years. So did my Uncle Harry, in his garage. But he was not Mr. Universe. This lady who at first was a stumbling block could not stop Kellie from success - because she went to the contest to picket and got more out of it than the winner. She hit a big article in a Philadelphia newspaper and was on Atlantic City radio for a full half hour. And she got a good anecdote to tell about taking a taxi to Atlantic City which cost her $250! There is more than one way of winning.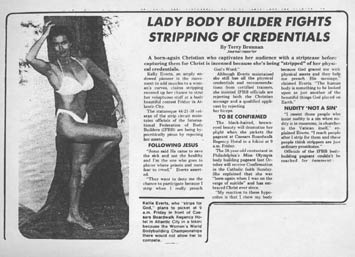 She alerted the press and got a big write up with a
great picture in a top Philadelphia newspaper.
If nothing else, Kellie Everts keeps moving ahead. Don't give up, ever. Understand that you haven't fond the right door yet. If one area doesn't work, don't stop. Try other things, or the same thing in other ways. And if no door answers, it will. Pray and think, and meditate. Call on God. It might not be the right time. Pray and wait, then work. Then pray and wait again, and sooner or later, you break through.
In recent days, Kellie's been reviewing the articles and books from the 1979-82 era. Two people stand out that really got the shaft from the industry. These two are Claudia Wilbourn and Bev Francis.
These women were overlooked by some because they didn't fill their old-time standards of beauty. The truth about it is that there are many dimensions of beauty. One is Marilyn Monroe and Jayne Mansfield, Sophia Loren and Racquel Welch. Then there's Greer Garson, Grace Kelly, and Audrey Hepburn. But get ready for a new image. The beauty of muscles.....on a woman. The muscles themselves can be so beautiful that a woman that is not considered Grace Kelly or Marilyn is now a force to be reckoned with. Once curves were beautiful. Some liked one type of curves, some liked another. Then certain types of hair came into styles. "Blondes have more fun." But here, we are talking about muscles. May the best muscles win! If you're into muscles and are judging for muscles, then the muscles themselves eclipse all other areas. They transcend the face, the hair, the curves, the so-called symmetry, and all the other confounding things the judges say they look at (including that insane thing called presentation where they judge you on being an entertainer. Is this the Ms America talent hunt?) They can decide they don't like a woman because she is too muscular, and then add a host of excuses why they voted that way. But it's pure prejudice, it's pure confusion. They simply aren't looking at her muscles. Just look at the muscles, and whoever has the biggest and best muscles in a muscle contest wins.
In the interviews of Kellie Everts in 1980 and "81 she is always saying the same thing: that she is overjoyed by the progress of women's bodybuilding. She is not limiting how far they can go. She is impressed. Not so with Lisa Lyon. Lisa Lyon claims, at times, to have "launched" women's bodybuilding. Then why is she complaining, in the Dec. 1981 "Muscle and Fitness," that women are getting too muscular? She assumes that the women who have now emerged are so muscular, that it had to be done with steroids. She also says they are spoiling it, when she, Lisa, tried so hard to convince women they wouldn't look like amazons, that it's safe to go to the barbells. But these overly-muscular women are spoiling her work! This tirade goes on for an entire feature article, with the help of Rick Wayne.
What is wrong with this picture? It smells to me like each woman who gets into it decides she's the one and only, and nobody better get any better! We recall an article where a lady named Doris is complaining to Rachel McLish about a newcomer who is extremely muscular, and Rachel says something like what is she trying to prove?...(She is trying to prove she's got more muscles than you!)
Picture this: The Mr. Olympias complaining that new guys are getting too muscular! It must be the steroids! What are they trying to prove? That bodybuilders are freaks? Let's all stay like Steeve Reeves, the ideal for all times.

This is a relay race. Each woman gives the baton to another, and the next group goes farther with it. Men are taking steroids, so why can't women? Of course, these drugs should be taken under the care of a doctor or health professional. (They can't be that bad taken in proper doses.... the champs don't seem to be dropping like flies. Arnold lived. Franco lived.) This is a spot that the women must attack nowadays; the unfair double standard of testing only the women. If the women are tested, men should be tested, also. If the men are not tested, women should not be.
It seems that the question of muscularity has been resolved. No one is going to stop it. Now it is settled that women are going to be as muscular as they want to be. But what's next to fight for?
The other areas of attack can be the amount of prize money. Equal pay for equal exploitation would be a key issue.
But most of all, women should start their own industry. Many of the men - certainly Joe Weider - started with little. His first magazine was xeroxed. But look what he built it into. Let's see some women industry moguls get started now!
Now to go back to speaking of Claudia Wilbourn and Bev Francis. There will always be unfairness and you have to fight it! The industry is a completely subjective, self-serving, money-centered entity. It does not take measurements of muscles, put that into a machine, and come up with the winners. Nor does it let a machine check body fat ratios or symmetry. The industry is not about fairness but about making money, and they choose whom they will - who they feel will earn them bucks. You can't take these contests too seriously. It's understood that the effort it takes to enter is formidable. Lots of time, strength, money, goes into it. So you want to win. But the winning is arbitrary. You may be the best and you may not win. So you have to look at the larger picture. If you train, will that training bring you another reward or prize? Can you do something with it besides holding the top trophy?
One way of winning is to tell your story. Talk to the press, or print your own book. Teach others by what you have learned. Start your own internet site. Become a public speaker on the issues, (we admit this is one of the hardest nuts to crack, but anything is possible); become an activist for women's rights. Build up your self esteem by doing great things with your body and mind and with your soul.

You win by your great attitude, no matter who the trophies go to. You win by moving on as when one door closes, another opens. Never give in to defeat. Simply redefine winning and go on to other things - always, always moving ahead.
Kellie thinks of Claudia Wilbourn and Bev Francis and wonders what would have happened had they never given up. Each year more muscles appeared. If Claudia had hung on - would they have honored her? Ditto for Bev Francis. She also recalls the short rift given black men in the seventies and eighties. That would have been Robby Robinson, Serge Nubret, and many others. Always the excuses. First the prejudice, then the hot air. Eventually, they ran out of excuses. The black men (and women) reigned supreme. Nobody could put them in the back seat of the bus any more. The industry lamely cried: "They don't buy magazines with a black person on the cover." Tsk. Tsk. Let the best person win, and pay them what you owe them. They gave their life to training - you can't push them aside. You want covers with blondes? Fine. Nobody can destroy free enterprise. But let the most muscular man or woman win. You are talking big is beautiful, muscle is beautiful. Screw the hair, face, skin color or whatever. Screw the presentation except the fact that they deliver the vision of muscles. If they make the audience scream, they win.
---


This site contains artful nudity
All content © 2004 - 2006 by Kellie Everts