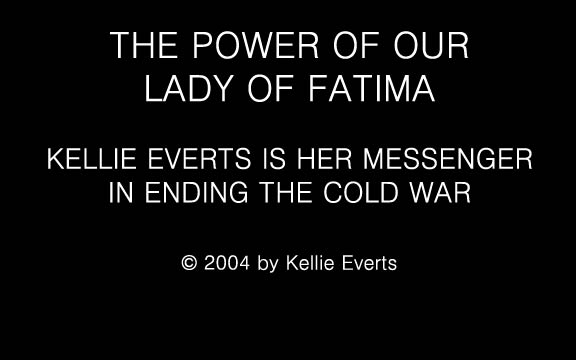 FOR THE FULL MESSAGE AND STORY OF FATIMA AS WELL AS THE THIRD SECRET PLEASE LOOK TO THE BOTTOM OF THIS ARTICLE:
Why doesn't the world recognize that Our Lady Of Fatima did what she said she would do? She got the three men elected who were key players in ending the Cold War. The Holy Father was first, but he was Pope for three years, and had not yet fulfilled the dictate of Fatima. Then he was shot. When he woke up from unconsciousness, the first thing he asked for was the papers on Our Lady Of Fatima. He had to almost die to wake up and realize the consecration was long overdue. Even the Catholic Church does not talk about what has happened; they seem to be just as ignorant as the rest of the world. One third of the world gives credit to Reagan, the other third to Pope John Paul II, the last third credits Gorbachev. But it was one hundred percent the power of Our Lady Of Fatima who did what she said she would do. She said that if the Pope, together with all the bishops, consecrated Russia to Her Immaculate Heart that Russia would be converted. In 1984 the Pope finally did what he was supposed to do. In 1985 Gorbachev came into power, and from June 13th 1990 to 1991 all the walls and curtains came down. This ended the possibility of a Third World War, and nuclear devastation of our Planet. The end of Communism was accomplished without bloodshed. It was done by God through Our Lady of Fatima. Kellie Everts was her messenger.
---
---
WHAT A GREAT DAY IT WAS, THAT JUNE OF 1978. THE STRIPPER FOR GOD WAS IN WASHINGTON. SHE WAS GOING TO PREACH IN FRONT OF THE WHITE HOUSE. IT WAS ARRANGED BY A WOMAN NAMED BETTY JANE, WHO HAD SEEN KELLIE EVERTS ON WASHINGTON TV. SHE LEFT HER NUMBER FOR KELLIE TO CALL. KELLIE HESITATED TO CALL BACK AND LIED DOWN FOR A NAP. BUT AS SHE LAY RESTING A WORD FROM GOD CAME TO HER, 'YOU CALL THIS WOMAN'. ON THE OTHER LINE SHE HEARD A VOICE SAYING, 'KELLIE EVERTS, YOU ARE A SAINT, AND I AM YOUR DISCIPLE..... YOU ARE GOING TO COME HERE AND PREACH IN FRONT OF THE WHITE HOUSE.'
THREE YEARS LATER IT WAS HAPPENING. BETTY JANE GOT THE PERMIT AND SENT OUT THE PRESS RELEASES TO ALL IN WASHINGTON, INCLUDING THE RUSSIAN EMBASSY, WHO SAID, 'WE WILL TAKE IT UNDER CONSIDERATION.'
The permit was applied for by Betty Jane Allsup before Kellie arrived....This event, even on the day it happened, revealed itself to Kellie and Betty Jane as a supernatural occurrence of monumental proportions. Kellie has always known that her career as "Stripper for God" found its highest point on this day.
KELLIE DID NOT RECALL MUCH ABOUT THE MESSAGE OF FATIMA. SHE HAD TO BONE UP. RIGHT NOW 'SALT TALKS' WERE GOING UNDER WAY, AND THE COLD WAR WAS VERY COLD. PRESIDENT CARTER WAS AWAY FROM THE WHITE HOUSE CONDUCTING SOME OF THESE CONFERENCES.
KELLIE EVERTS CAME TO DANCE AT A LOCAL THEATER AS WELL AS PREACH. SHE WAS AMAZED WHEN SO MANY IMPORTANT REPORTERS SHOWED UP TO INTERVIEW HER. SHE HADN'T EVEN DONE ANYTHING YET. SHE AND BETTY JANE CONDUCTED THEMSELVES AS IF THEY WERE IN A CONVENT, WITH KELLIE AS MOTHER SUPERIOR AND BETTY JANE AS A NUN. (BETTY JANE HAD ACTUALLY BEEN A NUN, BUT RAN AWAY WHEN THE DEVIL APPEARED AND SAID HE WOULD KILL HER IF SHE REMAINED. BETTY JANE, TERRIFIED, CLIMBED OUT THE WINDOW AND RAN. SHE EVENTUALLY ENDED UP IN A CLUB, AS THAT WAS THE ONLY PLACE SHE COULD GET A JOB. SHE WAS ALWAYS DEVOTED TO OUR BLESSED MOTHER, AND THAT BROUGHT HER AND KELLIE TOGETHER.)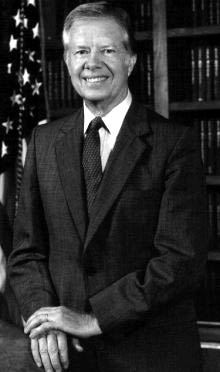 Our born-again President, Jimmy Carter, was in office at the time of the Fatima speech. He was holding the SALT (Strategic Arms Limitation Treaty) talks at this time.
BETTY JANE WAS INTENT ON KELLIE PREACHING FATIMA, AND SO IT WAS. KELLIE DIDN'T HAVE THE SLIGHTEST IDEA OF THE REACTION THIS WOULD BRING FROM THE PRESS. IN FACT, SHE SAID TO BETTY JANE BEFORE THEY WENT TO LAFAYETTE PARK,
'DON'T BE DISSAPOINTED IF NO ONE COMES. PEOPLE DON'T WANT TO HEAR SERMONS. WE GOT A LOT OF PUBLICITY ALREADY, AND IF FIFTEEN PEOPLE SHOW UP, IT'LL BE ALRIGHT.'
THE WASHINGTON POST - THE MOST PRESTIGIOUS PAPER IN TOWN - HAD DONE A FRONT-PAGE STORY. THE UPI AND ASSOCIATED PRESS HAD COVERED IT. SHE WAS EVEN ON THE NEWS ALREADY. SHE DIDN'T THINK MORE COULD HAPPEN.
Click thumbnail the see Kellie in the Washington Post announcing Kellie's speech on Our Lady Of Fatima. This speech was the catalyst for Our Lady Of Fatima's power which ended the Cold War.
| | |
| --- | --- |
| | |
| Click thumbnail to the see Kellie's write up in the Washington Star with a brief interview after her speech on Our Lady Of Fatima in front of the White House. The Star was one of the few entities in Washington DC to interview Kellie only after her speech. | Between Februasry 1968 to February 1969, Playboy featured Kellie in various sized articles nine times, highlighting the main events of her life at that time. Kellie wrote to the editor about her speech in Washington, click thumbnail to the see original announcement in Playboy. |
THE DAY OF THE SPEECH. IS KELLIE NERVOUS? YES, BUT SHE IS TRYING TO CONTROL HER EMOTIONS. THEY GO OUT THERE AND PUT UP POSTERS ABOUT THE MESSAGE,
'PRAY THE ROSARY FOR THE CONVERSION OF RUSSIA, OR NATIONS WILL BE ANNIHILATED.'
FURTHER DOWN IN THE MESSAGE OUR HOLY MOTHER INSTRUCTS THE CHILDREN TO TELL THE POPE THAT HE MUST, IN CONCERT WITH ALL THE BISHOPS, CONSECRATE RUSSIA TO HER IMMACULATE HEART. THIS MESSAGE, GIVEN IN 1917, WILL BE FULFILLED BY POPE JOHN-PAUL II, BUT A LOT HAS TO HAPPEN BEFORE THEN.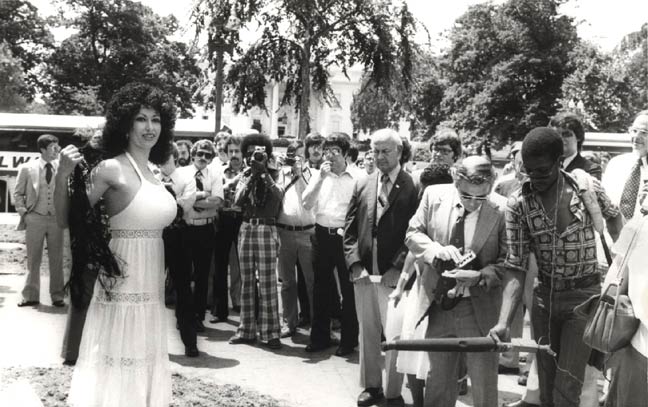 June 16, 1978, Kellie Everts preaches the Message of Fatima with the Washington Press Corps and others listening: "Pray the Rosary for the Conversion of Russia."
All three photos by Associated Press.
THEY HAVE SET THE STAGE IN THE MIDDLE OF THE PARK AND KNEEL DOWN TO RECITE THE ROSARY. IT IS 15 MINUTES BEFORE 12PM, AND THEY DON'T ANTICIPATE MUCH. BUT THEN, WITHIN FIVE MINUTES, MEN COME FROM ALL DIRECTIONS, AND THE PRESS IS THERE. IT'S A GOOD CROWD. ALL THE PRESS THAT ALREADY COVERED THEM HAS RETURNED. KELLIE FACES THEM. THE SPEECH BEGINS. YOU CAN HEAR A PIN DROP. KELLIE FEELS NOTHING EXCEPT HER WORDS, WHICH SEEM TO BE COMING OUT OF HER FLAWLESSLY. IT DOESN'T TAKE LONG AND THE PRESS INTERVIEWS HER AGAIN FOR THE NIGHTLY NEWS.
THAT AFTERNOON, IN THE THEATER, THEY WATCH THE NEWS. IT SHOWS ALL KINDS OF MISSIONARIES ON THE STREET, BUT NOBODY IS PAYING ATTENTION. THEN THEY PAN TO KELLIE WITH THE CROWD, AND GIVE HER MESSAGE.
THE NEXT DAY, ASSOCIATED PRESS HAS SENT THE STORY TO FRONT PAGES ALL OVER THE UNITED STATES. THEY GET CALLED, AT THE THEATER, BY TWENTY SEVEN RADIO STATIONS.
SOMETHING SUPERNATURAL HAS HAPPENED. NEITHER ONE EXPECTED IT, ANTICIPATED IT OR UNDERSTOOD IT. WHEN THE SPEECH WAS DONE THEY WERE WAITING FOR A BUS TO GO BACK TO THE THEATER. NEITHER ONE COULD FEEL THE GROUND UNDER HER FEET AND FELT A SPIRITUAL ECSTASY. THEY HELD HANDS AND JUMPED UP AND DOWN, SAYING THINGS LIKE,
'IF I DIE TOMMOROW, I HAVE DONE THE MOST IMPORTANT THING IN MY LIFE!'
'GOD IS HERE! GOD IS HERE!'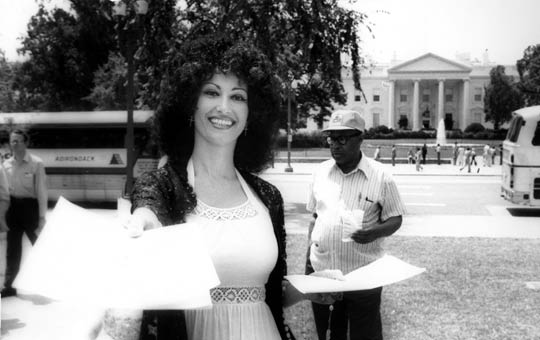 A SPIRITUAL PSYCHIC LATER TOLD KELLIE THAT 1,OOO ANGELS WERE PRESENT AT THE SPEECH. GOD'S POWER WAS UNLEASHED.
WHAT WAS GOD'S PLAN IN THIS? WHY WAS GOD USING THIS STRIPPER FOR GOD AND HER FRIEND, THESE OUTCASTS OF SOCIETY, TO DO SOMETHING SO MAJOR? BECAUSE GOD USES THE WEAK TO MOVE THE STRONG. GOD USES CHILDREN TO TEACH WISDOM TO GROWNUPS. GOD USES THE LITTLE, AS GOD USED THE POOR, THE WEAK, THE LOWLY TO CARRY MOST OF THE MESSAGES OF OUR HOLY MOTHER. KELLIE WAS AWARE OF THIS AND WORE A WHITE PEASANT DRESS.
THE DISMANTLING OF THE SOVIET UNION DID NOT HAPPEN BY ACCIDENT, NOR WAS IT A WILLY NILLY OR HELTER SKELTER OCCURENCE. IT FOLLOWED THE TIME TABLE OF GOD, EXACTLY AS OUTLINED AND DIRECTED BY OUR LADY OF FATIMA.
PEOPLE BEGAN TO PRAY. THE MESSAGE WENT TO MILLIONS AND CHURCHES DID BEGIN RECITATION OF THE ROSARY. THERE WERE THREE MEN THAT GOD HAD TO PUT INTO OFFICE. ONE WAS PRESIDENT REAGAN. NEXT WAS THE POLISH/LITHUANIAN POPE FROM BEHIND THE IRON CURTAIN. (A TRULY REMARKABLE OCCURENCE. THE FIRST TIME A NON-ITALIAN WAS ELECTED TO THE SEAT, AND EVEN A MAN FROM BEHIND THE IRON CURTAIN! WONDER OF WONDERS!) THE THIRD MEANINGFUL PERSON TO RISE TO POWER AND BRING GLASNOST WAS MIKHAIL GORBACHEV.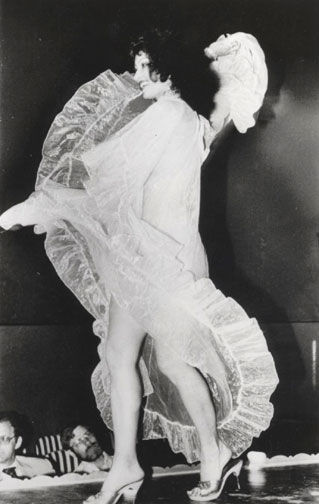 KELLIE EVERTS WAS THE ONLY PERSON TO WHOM IT WAS SHOWN BY GOD - TO WHOM VISION WAS GIVEN - OF HOW THIS ALL CAME ABOUT. SHE HERSELF DID NOT REALIZE IT UNTIL GOD BEGAN SPEAKING TO HER. GOD KEPT REMINDING HER OF THAT SPEECH AND THE WORDS OF FATIMA, AND WHAT HAPPENED TO THE POPE, AND HOW IT ALL TIED TOGETHER.
THE PUBLIC DID UNDERSTAND THAT THESE MEN WERE RESPONSIBLE - BUT THEY DID NOT CONNECT IT TO THE SPEECH IN WASHINGTON, JUNE 16, 1978. SOME SAID IT WAS REAGAN WHO DID IT WITH HIS TOUGH POLICY OF STAR WARS. OTHERS SAID IT WAS OUR HOLY FATHER, THE POPE, BECAUSE HE WAS A GREAT FIGHTER AGAINST COMMUNISM AND HE FACED THEM DOWN. CERTAINLY MANY PEOPLE CREDITED THE GREAT GORBACHEV WITH HIS POLICIES FOR MAKING THE WALLS AND CURTAINS COME DOWN - BUT ONLY KELLIE EVERTS UNDERSTOOD THE LADY OF FATIMA AND HER POWER, AND THE WAY SHE HAD WORKED.
DAYS BEFORE THE SPEECH HOLY MARY APPEARED TO KELLIE, SHOWED HER A VISION OF HER IMMACULATE HEART AND THE SACRED HEART OF JESUS BEING ONE, AND SAID TO KELLIE,
'I WANT YOU TO SHOW MY IMMACULATE HEART TO THE WHOLE WORLD.'
POPE JOHN-PAUL II WAS THE FIRST LINCHPIN IN THE PLAN OF FATIMA. AFTER THE CONTROVERSIAL ELECTION AND DEATH OF ONE POPE, HE WAS ELECTED OCTOBER 17, 1978, JUST FOUR MONTHS AFTER THE FATIMA SPEECH.
PRESIDENT REAGAN WAS ELECTED LATE 1980 TO START HIS PRESIDENCY IN '81.
MIKHAIL GORBACHEV BECAME CHAIRMAN OF THE COMMUNIST PARTY MARCH 11, 1985.
THE DEVIL IMMEDIATELY SET TO WORK BY TRYING TO KILL TWO OF THE KEY MEN. PRESIDENT REAGAN WAS SHOT BY A MADMAN ON MARCH 30, 1981. OUR HOLY FATHER WAS SHOT MAY 13, 1981.
HERE, TO KELLIE EVERTS, IS THE MOST REMARKABLE FACT. AS SOON AS JOHN-PAUL II WOKE UP IN THE HOSPITAL, HE ASKED HIS AIDES TO BRING HIM THE MESSAGE OF FATIMA. TO HER THIS MEANT THAT SOMETHING CLICKED IN HIM TO GET HIM TO SEE THAT HE WAS THE POPE OF FATIMA - THE POPE THAT HAD TO DO THE CONSECRATION. HE STUDIED THE GUIDELINES AND DECIDED HE WOULD PROCEDE ON THE CONSECRATION SOON. FIRST HE TOLD THEM TO TAKE THE BULLET FROM HIS BODY AND PUT IT INTO THE CROWN OF OUR LADY OF FATIMA. THE CONSECRATION ITSELF WAS NOT IMMEDIATE. THEY TRIED IT FIRST, BUT IT WAS UNACCEPTABLE (ACCORDING TO LUCIA, WHO IS STILL LIVING IN A CONVENT IN PORTUGAL) AND THE SATISFACTORY CONCECRATION TOOK PLACE IN 1984. (THIS ACT MIGHT HAVE BEEN THE CATALYST FOR GORBACHEV'S ELECTION A YEAR LATER.)
UNDERSTAND THIS: BEFORE THE ENDING OF COMMUNISM THE WHOLE WORLD LIVED IN FEAR OF A THIRD WORLD WAR STARTED BY RUSSIA AND THE UNITED STATES. ALL KINDS OF MISSILES WERE POINTED ALL OVER EUROPE. THERE WAS A HUGE ANTI-WAR ACTIVIST MOVEMENT WHICH DISMANTLED AS SOON AS THE IRON CURTAIN CAME DOWN.
THE BEGINNING OF THE END FOR COMMUNISM WAS THE BERLIN WALL WHICH STARTED MID-JUNE, 1990 AND WAS DOWN BY NOVEMBER. THE REST OF THE BARRIERS FELL DOWN WITHIN A YEAR, AND LITHUANIA, THE COUNTRY OF KELLIE EVERTS AND OUR POPE, GOT ITS FREEDOM IN 1991.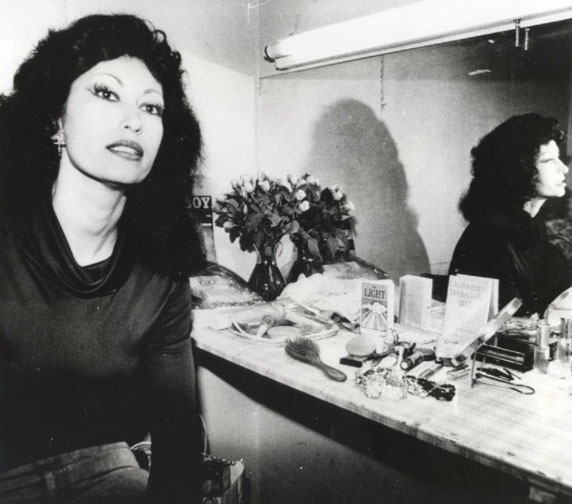 NOW FOR THE CONNECTION BETWEEN KELLIE EVERTS AND THE PEACE PLAN OF GOD. SHE WAS BORN ON A PROPITIOUS AND MYSTERIOUS DAY - JULY 16, 1945. THIS WAS A CONTRADICTION IN TERMS, BECAUSE IT WAS THE FIRST DAY AN ATOMIC BOMB WAS EXPLODED, (IN LOS ALAMOS, NEW MEXICO) AND IT WAS ALSO THE FEAST DAY OF OUR LADY OF MOUNT CARMEL - OUR LADY OF PEACE. SHE WAS BORN IN GERMANY, BUT TO A FAMILY WHO HAD JUST RUN AWAY FROM STALIN; RUN FOR THEIR LIVES. HER FATHER WOULD HAVE BEEN SENT TO SIBERIA ALONG WITH THE OTHER 30% OF THE POPULATION OF LITHUANIA. ALL FOLKS IN CHARGE OF THINGS - DOCTORS, LAWYERS, TEACHERS, POLICE, AND THE LIKE - ANYONE WHO COULD OPPOSE TYRANNY - WERE SENT TO SIBERIA. MANY DIED THERE. STALIN HAD ACTUALLY KILLED MORE HUMANS THAN ANY PERSON IN THE HISTORY OF THE WORLD; ABOUT 30 MILLION.
Pope John Paul II (Elected October 1978), President Ronald Reagan (Elected November 1980) and Mikhail Gorbachev (Elected Mary 1985). The devil must have known something was up because he immediately set out on his trail of destruction, trying to get two of the key players killed, and the third was kidnapped with his life in danger. President Reagan was shot March 30, 1981, and Pope John-Paul II was shot May 13, 1981, in St. Peter's Square. Without a doubt, the devil was trying to take out all three men.... but God prevailed.
THE FAMILY LEFT GERMANY AND ARRIVED IN THE UNITED STATES ON JUNE, 1949. THEY LIVED IN A LITHUANIAN COMMUNITY WITHIN THE FELLOWSHIP OF THE CATHOLIC CHURCH. AT FREQUENT COMMUNITY EVENTS KELLIE EVERTS LISTENED TO HER FATHER GIVE SPEECHES AGAINST COMMUNISM. THE ENTIRE COMMUNITY CENTERED AROUND THE NEED TO DELIVER LITHUANIA FROM THE COMMUNIST YOKE. KELLIE EVERTS WAS A SUITABLE INSTRUMENT TO CARRY THE MESSAGE OF FATIMA. SHE GRIEVED THAT HER DAD, WHO DIED IN 1979, DID NOT SEE THE LIBERATION OF HIS BELOVED COUNTRY.
THERE IS VICTORY HERE. THERE IS JUBILATION. THE POWER OF GOD HAS SPOKEN! RUSSIA AND THE UNITED STATES DID NOT BLOW THE WORLD UP, AND SO, NATIONS WERE NOT ANNIHILATED. THE PROPHECY OF OUR LADY OF FATIMA CAME TRUE: RUSSIA WILL BE CONVERTED...MY IMMACULATE HEART WILL TRIUMPH.'
PRESIDENT REAGAN HAD JUST DIED. IT WAS JUNE 5, 2004, AND KELLIE EVERTS HAD AWAKENED WITH A DREAM. IN THE DREAM SOMEONE SAID TO HER, SOFTLY, GRATEFULLY,
'IT WAS YOU WHO GOT HIM ELECTED.'
SHE REMEMBERED THE SPEECH AT FATIMA. YES, IT WAS THE SPEECH WHERE THE POWER OF GOD WAS UNLEASED THROUGH OUR BLESSED MOTHER. SHE FELT JOY. SHE UNDERSTOOD.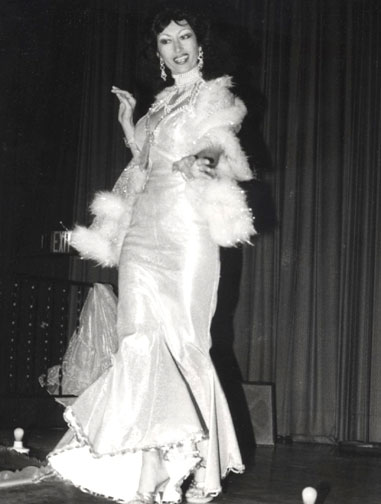 .
Kellie Everts, the week of the Sermon at the Plaza Theatre in Washington.
Photo by Associated Press.
The Story Of Our Lady Of Fatima
From the website of
The Religious Congregation Of Mary Immaculate Queen
Between the months of May and October of 1917, our Blessed Mother appeared to three shepherd children near Fatima, Portugal, giving them a message for the world which has since become known as the "Peace Plan from Heaven." She warned men that if they did not amend their lives, God would be forced to punish them by means of wars and other sufferings.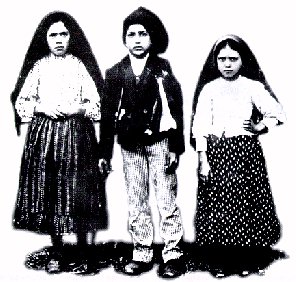 Lucia, Francisco and Jacinta. The three children who received the Secrets of Our Lady Of Fatima in 1917.
The children were visited by the Angel of Portugal prior to Our Lady's appearance. The Angel told them, "What are you doing? Pray! Pray very much! The Hearts of Jesus and Mary have merciful designs for you. Offer prayers and sacrifices constantly to the Most High... In every way you can offer sacrifice to God in reparation for the sins by which He is offended, and in supplication for the conversion of sinners... Above all, accept and endure with submission the sufferings which the Lord will send you. Take and drink the Body and Blood of Jesus Christ, horribly outraged by sinful men. Make reparation for their crimes and console your God."
| | |
| --- | --- |
| | In the message of Fatima it's important to note that they were first visited by a great angel, and this angel strengthened them for what was to come, by giving them the Body and Blood of Christ. They were visited by this great angel three times. |
When our Blessed Mother appeared to the children she asked them, "Do you wish to offer yourselves to God, to endure all the suffering that He may please to send you, as an act of reparation for the sins by which He is offended, and to ask for the conversion of sinners?... Then you will have much to suffer. But the grace of God will be your comfort."
"...Do you suffer a great deal? Don't be discouraged. I will never forsake you. My Immaculate Heart will be your refuge and the road that will conduct you to God. Sacrifice yourself for sinners and say many times, especially when you make some sacrifice, 'O my Jesus, it is for love of Thee, in reparation for the offenses committed against the Immaculate Heart of Mary, and for the conversion of poor sinners.'
"Say the Rosary every day to obtain peace for the world and the end of the war... If they do what I tell you, many souls will be saved, and there will be peace. The war is going to end [World War I]. But if they do not stop offending God, another and worse one will begin in the reign of Pius XI... When you see a night illumined by an unknown light, know that it is the great sign that God gives you that He is going to punish the world for its crimes by means of war, of hunger, and of persecution of the Church and of the Holy Father.
"To prevent this, I come to ask for the consecration of Russia to my Immaculate Heart and the Communion of reparation on the First Saturdays. If they listen to my requests, Russia will be converted and there will be peace. If not, she will scatter her errors throughout the world, provoking wars and persecutions of the Church. The good will be martyred; the Holy Father will have much to suffer; many nations will be annihilated.

Shrine of Our Lady of Fatima. Fatima, Portugal .
"Jesus wishes to make use of you to have me acknowledged and loved. He wishes to establish in the world devotion to my Immaculate Heart.
"Here you see hell, where the souls of poor sinners go. To save them, God wishes to establish in the world devotion to my Immaculate Heart... Pray, pray a great deal and make sacrifices for sinners. So many souls go to hell because there is no one to pray and sacrifice for them."
Our Lady's message that men "must amend their lives and ask forgiveness for their sins," and that they "offend the Lord God no more, for He is already much offended" is meant for all of us, whether we are religious or lay. It is this message that our Congregation acts to promote, so that all people can, by praying the daily Rosary, by offering up their prayers and the sacrifices demanded by their daily duty, restore the temporal order in Christ.

THE "SECRET" OF FATIMA
FIRST & SECOND PART OF THE "SECRET"
ACCORDING TO THE VERSION PRESENTED BY SISTER LUCIA IN THE "THIRD MEMOIR" OF 31 AUGUST 1941 FOR THE BISHOP OF LEIRIA-FATIMA
(original text)
... This will entail my speaking about the secret, and thus answering the first question.
What is the secret? It seems to me that I can reveal it, since I already have permission from Heaven to do so. God's representatives on earth have authorized me to do this several times and in various letters, one of which, I believe, is in your keeping. This letter is from Father José Bernardo Gonçalves, and in it he advises me to write to the Holy Father, suggesting, among other things, that I should reveal the secret. I did say something about it. But in order not to make my letter too long, since I was told to keep it short, I confined myself to the essentials, leaving it to God to provide another more favorable opportunity.
In my second account I have already described in detail the doubt which tormented me from 13 June until 13 July, and how it disappeared completely during the Apparition on that day.
Well, the secret is made up of three distinct parts, two of which I am now going to reveal.
The first part is the vision of hell.
Our Lady showed us a great sea of fire which seemed to be under the earth. Plunged in this fire were demons and souls in human form, like transparent burning embers, all blackened or burnished bronze, floating about in the conflagration, now raised into the air by the flames that issued from within themselves together with great clouds of smoke, now falling back on every side like sparks in a huge fire, without weight or equilibrium, and amid shrieks and groans of pain and despair, which horrified us and made us tremble with fear. The demons could be distinguished by their terrifying and repulsive likeness to frightful and unknown animals, all black and transparent. This vision lasted but an instant. How can we ever be grateful enough to our kind heavenly Mother, who had already prepared us by promising, in the first Apparition, to take us to heaven. Otherwise, I think we would have died of fear and terror.
We then looked up at Our Lady, who said to us so kindly and so sadly:
"You have seen hell where the souls of poor sinners go. To save them, God wishes to establish in the world devotion to my Immaculate Heart. If what I say to you is done, many souls will be saved and there will be peace. The war is going to end: but if people do not cease offending God, a worse one will break out during the Pontificate of Pius XI. When you see a night illumined by an unknown light, know that this is the great sign given you by God that he is about to punish the world for its crimes, by means of war, famine, and persecutions of the Church and of the Holy Father. To prevent this, I shall come to ask for the consecration of Russia to my Immaculate Heart, and the Communion of reparation on the First Saturdays. If my requests are heeded, Russia will be converted, and there will be peace; if not, she will spread her errors throughout the world, causing wars and persecutions of the Church. The good will be martyred; the Holy Father will have much to suffer; various nations will be annihilated. In the end, my Immaculate Heart will triumph. The Holy Father will consecrate Russia to me, and she shall be converted, and a period of peace will be granted to the world".
THIRD PART OF THE "SECRET"

(original text)
"J.M.J.
The third part of the secret revealed at the Cova da Iria-Fatima, on 13 July 1917.
I write in obedience to you, my God, who command me to do so through his Excellency the Bishop of Leiria and through your Most Holy Mother and mine.
After the two parts which I have already explained, at the left of Our Lady and a little above, we saw an Angel with a flaming sword in his left hand; flashing, it gave out flames that looked as though they would set the world on fire; but they died out in contact with the splendor that Our Lady radiated towards him from her right hand: pointing to the earth with his right hand, the Angel cried out in a loud voice: 'Penance, Penance, Penance!'. And we saw in an immense light that is God: 'something similar to how people appear in a mirror when they pass in front of it' a Bishop dressed in White 'we had the impression that it was the Holy Father'. Other Bishops, Priests, men and women Religious going up a steep mountain, at the top of which there was a big Cross of rough-hewn trunks as of a cork-tree with the bark; before reaching there the Holy Father passed through a big city half in ruins and half trembling with halting step, afflicted with pain and sorrow, he prayed for the souls of the corpses he met on his way; having reached the top of the mountain, on his knees at the foot of the big Cross he was killed by a group of soldiers who fired bullets and arrows at him, and in the same way there died one after another the other Bishops, Priests, men and women Religious, and various lay people of different ranks and positions. Beneath the two arms of the Cross there were two Angels each with a crystal aspersorium in his hand, in which they gathered up the blood of the Martyrs and with it sprinkled the souls that were making their way to God.
Tuy-3-1-1944".