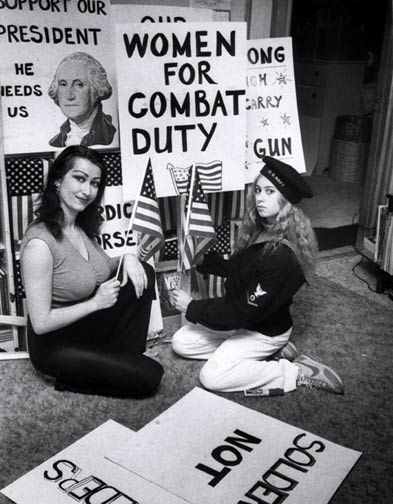 These were scary times in America. We were in the cold war - people had rebelled against our participation in Viet Nam and were not eagerly joining the military. There was talk women might even be drafted. Kellie picked up the paper and saw a picture with a bunch of college kids, with females in front, angrily marching with signs that said, 'HELL, NO, WE WON'T GO.'

Kellie felt ashamed. It seemed unpatriotic. Washington's birthday was coming up and she decided to have a counter-demonstration that day.
THE DEMONSTRATION HITS THE FRONT PAGES OF THE NEW YORK POST AND THE NEW YORK DAILY NEWS
Click on thumbnails to see and read original NY Post and NY Daily News
articles on Kellie's demonstrstion
HERE IS THE BULK OF THE NEWS WORLD METROPOLITAN FRONT PAGE TO SHOW YOU WHAT GOOD COMPANY KELLIE EVERTS WAS WITH: BOY SCOUTS AND CUB SCOUTS PATRIOTIC PARADE AND THE WORLD FAMOUS STATUE OF THE RAISING OF THE FLAG AT IWO JIMA!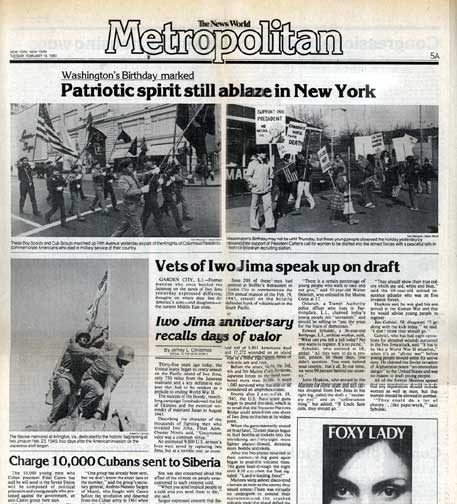 Click thumbnails to see full sized clippings.
From the News World Metropolitan
New York, NY Tuesday February 19, 1980
There wasn't anyone to help. She went out and got all the materials needed for signs, which included cardboard placards and wooden sticks, staples and staple gun, and pictures of Washington and Lincoln, little flags, etc. She typed up literature and had it xeroxed and created all the signs. She also got special Sousa music for the demonstration. Then she walked through all the neighborhood putting up hundreds of signs in extremely cold, windy weather. No one helped. She hoped people would show up. Then the Press. All the Press were contacted, and the New York Post, one of the top three papers in New York, came to Kellie's apartment and took photos (shown herein) and interviewed her.

The day of the demonstration went off tremendously well - but it took Kellie some sweat to get people together. Few showed up, so Kellie went into stores around the recruiting station and drafted people with persuasion. Finally, enough to look good. Two television crews were there for the nightly news! IT WAS A SUCCESS AND KELLIE PROVED HER POINT, FOR GOD, COUNTRY, AND WOMEN.

Indeed, it was Patriotism and beyond. Women should have equal rights in all spheres of life, including military. Why should it be dictated to them by men what they can and can't do? If some women choose military life before family, why should that be anyone's concern?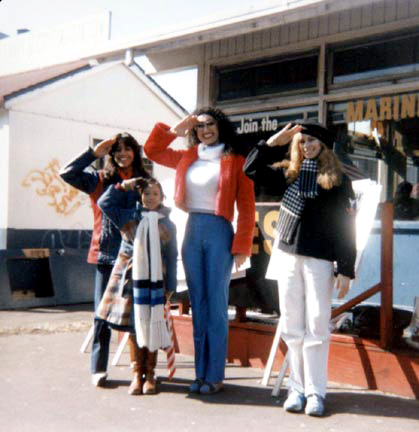 PHOTOS TAKEN BEFORE THE DEMONSTRATION STARTED, OF KELLIE EVERTS IN RED, WHITE AND BLUE, DECLARING WITH DAUGHTER VIVIAN AND FRIENDS THAT WOMEN WANT EQUAL RIGHTS TO DEFEND OUR COUNTRY, THAT WE ARE STRONG ENOUGH TO CARRY A GUN, AND UNCLE SAM WANTS WOMEN! THIS RALLY DISPLAYS THE KELLIE EVERTS TALENT FOR FAST ORGANIZATION WITH IDEAS THAT WORK IN THE MEDIA.
Click thumbnails to read Kellie's original typed press release and handouts for the
Women For Equal Rights In The Defense Of Our Country demonstration
THE DEMONSTRATION YIELDS AMAZING PUBLICITY CONSIDERING KELLIE EVERTS HAD ONLY FIVE DAYS TO PREPARE....TWO OF THE NEW YORK NIGHTLY NEWS STATIONS FEATURE THE STORY....BILL BOGGS MIDDAY LIVE SHOW HAS KELLIE ON AS A SUPERPATRIOT.....KELLIE GETS A MERIT CITATION FROM THE MARINES AND A THANK YOU LETTER FROM PRESIDENT CARTER!

There is a connection between President Jimmy Carter and Kellie Everts. He was the President at the time of the demonstration. He is a born-again Christian who let people know he has a REAL relationship with God. When Kellie did the demonstration "Women for equal rights in the defense of ourcountry," he was in office and she received a kind letter from him in response to her action.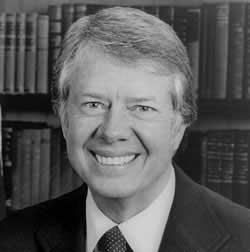 To top it all off, he was the only President she'd seen in person. It was in Philadelphia. She'd been campaigning for him on stage, and at night, she and Paul Hendricks put up his posters all over Philly. She was told by the campaign committee where he'd be speaking and saw him come out of the building. That week she had a special red/white/blue floor length gown made, of shiny material, with a red see-through robe with red/white/blue cuffs and collar. She saw him, but he did not see her. It was winter; about forty degrees, and she so wished he'd see her gown as she stayed exposed for the occassion.