It was an IFBB show in 1972. Mr. America and Ms. Americana.
This was the show where two men fell in love with the same lady, and one of them engaged to someone else. These two men were best friends, kind of like "twins" where one was tall and majestic, while the other short and stocky. Other than that, when they posed on the stage in tandem, each magnificent muscle was exactly like that of the twin.
It was Kellie Everts first body building contest, and she was excited. She was also interested in meeting Arnold Schwarzenneger and Franco Columbu, the biggest stars of this special world. She brought with her a magazine with Franco on the cover for him to sign - by way of approach. Arnold was sitting nearby, but Kellie didn't see him. She bent down in front of a sitting Franco to show him the magazine, and the next thing you know, Arnold turned around and a picture was snapped with him looking at her cleavage. This went into muscle magazines throughout the world. (Later, Kellie saw a similar picture of Arnold looking at the breasts of Racquel Welch...."a breast man," she surmized....she also read a story about Arnold being invited by a bunch of guys to dinner after a show. Putting his arms around a bountiful blonde, Arnold said, "We have UDDER things to do." Kellie laughed.)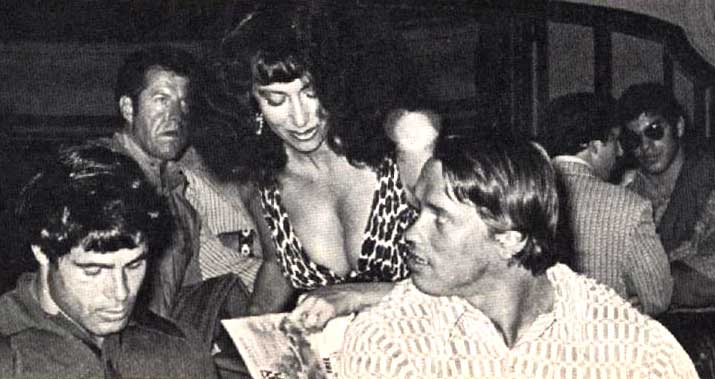 Franco Columbu, Kellie Everts & Arnold Schwarzeneggar when the three met in 1972. This was the beginning of a lot of heat and then a lot of wrath on Arnold's part. After seeing this picture and a picture of Arnold with Racquel Welch in the same scenario, Kellie realized Arnold is a breast man.
Both of the men, it panned out later, were besotted with Kellie.
For the moment, HER mind was on Franco, but that would soon change. Arnold approached, and both standing there they had a chat. He GLARED at a photographer NOT to take a picture of them. Words passed that we shall not enter here and the next thing you know, Arnold was leading Kellie backstage to a darker and darker area, to what seemed like a series of curtains to the end of the wall. Kellie felt like she was taken over by a magnetic force; like something that came from the sky with magnetic rays and sucked you up into a UFO. SHE COULDN'T RESIST ARNOLD EVEN IF SHE WANTED TO, AND THE NEXT THING YOU KNOW, THEY WERE MAKING LOVE.
But they got caught with their pants down, so to speak. Kellie's back was against the wall, and Arnold facing her. A large black bodybuilder appeared nearby, as if looking for something. He was there for a second, and disappeared. Had he seen them, she wondered? How embarrassing!....maybe he hadn't. Arnold saw nothing. Within minutes, here comes the same guy with Franco in tow, and Franco is saying,
"Kellie, I thought you were MY girlfriend!"
Arnold turned beet red as Kellie, completely befuddled, blurted out,
"OK....I can be the girlfriend of BOTH of you!"
Arnold, in a loud voice, protested, "NO," and Kellie from that moment, began to feel THE WRATH OF ARNOLD.
Nothing is remembered by Kellie of what came next, except they all dispersed. Each one had things to do on stage - Kellie, to show her body and win two trophies (In her career, she won BEST BODY in the IFBB Ms Americana three times, twice in New York and once in California, and this was one of those nights plus 2nd place Ms Americana.) Arnold and Franco were the stars of the show - their posing routine together.
The next day Kellie had her date with Franco Columbu. She wore a slinky, body hugging black dress, and they had a snack at the Hofbrau Haus in Times Square. They then went to the hotel the bodybuilders stayed.
Just the day before, Franco caught Arnold with his pants down with Kellie. Now Arnold caught Franco with his pants down with Kellie. No wonder Arnold didn't want to pose with Kellie, sitting on her shoulders. (See image section)
When everyone was dressed and leaving, Kellie learned that Franco was a quirky guy. He - the strongest man in Italy - asked her to carry one of his suitcases. He also thought they could do an adagio act together where she could hold him up instead of the other way around. They made another date, but he broke it - for food. He called up saying he and Arnold had a date with a lady who made REALLY GOOD FOOD. Now Franco would feel the wrath of Kellie.
They were still friends, but Kellie would never allow him to make love to her again.
Franco Columbu & Kellie Everts in 1973 New York City at her sister's apartment. It was a messy triangle which started with Arnold & Kellie, then Franco & Kellie with Franco being the best friend of Arnold. Did Arnold feel cuckolded?
Franco was the opposite of Arnold in terms of personality. He was a warm, cuddly Teddy Bear, sweet and kind. Arnold was more like a jackhammer, his approach like Atilla the Hun.

Click on the photos to see larger versions and Franco's intimate inscriptions to Kellie. The inscription on the left is in his native Italian, the right reads:

"To my Kelly the nicest & most beautful angel on this planet, all my love, Francesco Columbu"
In 1972 Kellie was 132 lbs. of curvy, lean, sensuous flesh (on a 5'7" frame) and there were few men who did not desire her.
From then on Arnold was forever pissed and ice cold to Kellie, while Franco, an easy-going guy, was always sweet. But shenanigans and pranks were pulled on her over the years - and after reading material on "The Austrian Oak" like Wendy Leigh's ARNOLD, Kellie figured it had to be him. One prank which was not mean but funny went like this:
In 1974 Dan Lurie payed Kellie's way to go to London, with Boyer Coe and other stars, for the Mr Universe, Ms Bikini competition. While there, a lot of things happened. Kellie had a way of turning one opportunity into two or three, and she did so in London. She alerted the British Press of her forthcoming arrival, regarding the contest, and that she was a preacher as well, and all that. They loved it and were all over her and she was already in the paper upon arrival.
All these contests are POLITICAL - we will have you know. There is no objective fairness in any of them. Whoever the promoters want to win, wins. They count the votes whatever way they want. Sometimes those who deserve it win. But sometimes there could be a few people worthy of the trophy, and they have to make a decision who gets it, and the decision is subjective and political.
There are more than one ways to win. Kellie won with a magnitude of publicity and a good attitude after being awarded 5th place in this. She showed no disgust at her low placing and insisted on having a good time.
When a person has all the clout, even though he looks like shit in the contest, he wins. (Kellie had become savvy about contests. She'd been entering them for years, was friends with promoters and judges, and had even put one on herself in Hollywood - Ms Queen of Starlets....she knew the score and "Babe," she said, you have no idea what goes on behind "closed doors.")
Kelllie Everts got a free ticket from Dan Lurie to go to London for the Mr Universe, Ms Universe Bikini. Come what may, she decided to make full use of the trip. Before leaving she made a personal visit to the British Press and they faxed her story and photos ahead. When she arrived, she was already in the British News! Then shortly, a couple of gents visited her in the hotel and took shots for News of the World. Kellie told them about the bodybuilding but also her mission. Little did she know, that as she sat in a restaurant in London at 4AM after the show and revelry, (with horny Mr Universe "Hans" across the table) she would spot her big picture and story announcing that she would preach that morning at Hyde Park! Yipes! Women, get thee to a bed!

Click thumbnail to the left to read to the original LONDON EVENING NEWS article featuring Kellie's arrival .
There was a lot of anger in London in 1974. Boyer Coe (a true gentleman who Kellie respected) had been winning every year. He looked fantastic. But Chris Dickerson took it away from Boyer and Boyer got so mad, he threw his second place trophy in the garbage. When Kellie Everts came out to pose, she almost got a standing ovation, but the judges only gave her #5 out of eight! She laughed it off and vowed to turn it into a success. In her mind, the contest itself was a paid trip by Dan Lurie to learn something, make observations, and drum up publicity. There are various ways of winning. That minor contest is all but forgotten. The English woman they gave the prize to got on no front pages nor was she ever heard from again. All these contests were STEPPING STONES for ambitious people who had a goal. Kellie's goal was MISSION. Arnold's goal was fame and fortune. You achieve success by MOVING ON.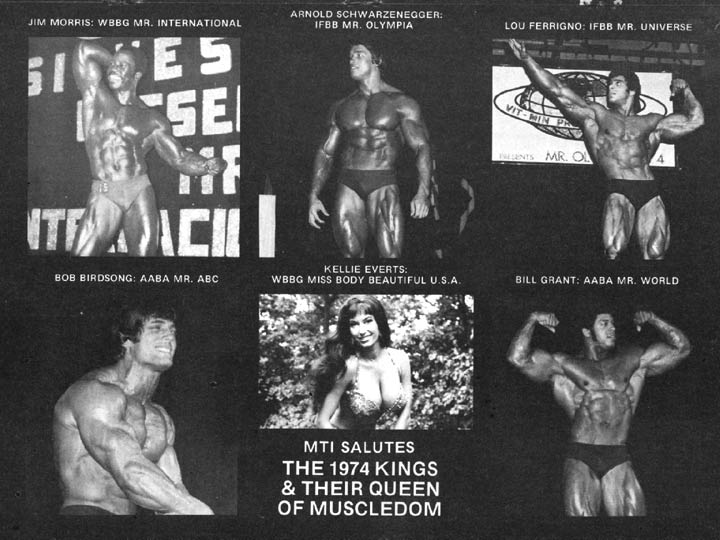 There was a dinner after the contest and Kellie sat at the table talking with Chris Dickerson about opera. Chris is a handsome, charming, African-American - who just happens to be an OPERA SINGER. This went great with Kellie as she was an opera fan and went to the Met all the time. (Metropolitan Opera House, New York, mostly to see her beloved Franco Corelli.) He told Kellie that the next time she'd see him on the stage, he may be doing Rigoletto instead of flexing muscles. He was truly remarkable that year and many other years, and he kept winning contests including, eventually, Mr Olympia. (His turn came up to win...patience, patience, don't get mad or give up...keep trying.) Over in London, every time Kellie saw Chris there were ten men sitting around him, doting on every word he said. We don't have that in the feminine world. Women are catty and don't admire great women; they hate them as competition. But there is a brotherhood with men that women should take note of. In fellowship there is strength.
Now the funny story begins. Kellie got to know Albert Busek, one of the best friends of Arnold, in London. He sat across from her at dinner, banging the table with his fist, arguing with an English guy about Arnold. The Englishman said that Arnold had a flaw.
"What flaw!...what flaw!...Arnold is perfect!," mad Busek proclaimed.
"His calves,"
The Englishman volunteered, now feeling intimidated - as English people are not demonstrative or violent. (The Englishman was wrong. Arnold had had a problem with his calves in the beginning, but he conquered it.)
Then Kellie told Albert that she was born in Germany. Mr. Busek once again started banging his fists, yelling,
"Then why don't you speak German!"
Then came a struggle. These guys were all plotting to go out and do the town, and Kellie insisted on going. But Albert didn't want her - for some reason. But Kellie wouldn't take no for an answer, and more or less, just said she was going and that was it. And so they took her. Later she figured they were ashamed as they were going to all the strip joints, and one of the men in the bodybuilding show was up there butt naked doing some sort of act with a naked lady. This didn't bother Kellie at all. In fact, she went to the managers office and applied for a job, and the manager said he was interested, but couldn't afford her price. They were paying much less than $1,000. a week at these clubs.
Kellie's date was a handsome, huge blonde German with blue eyes, who couldn't speak a word of English. He was one of the guys in the Mr Universe contest and won an important trophy. He was Albert's buddy. He was draped around Kellie all night and kept kissing her. Kellie had a little trouble relating to a guy who she could not speak with. (This is a good argument for the universal language to be hand signals...something all of us could be taught in school.)
After doing the town, they went to breakfast about 4AM. Europe has a way of seating people where strangers are lumped together. As Kellie sat at breakfast with the German across from her, an Englishman was at her left reading the world's foremost newspaper: NEWS OF THE WORLD..9 MILLION CIRCULATION. Something caught her eye. She turned her head left and saw her own picture, a big one in a bikini, staring at herself. Underneath it said,
"KELLIE EVERTS, A WOMAN WITH A 44" BUST AND A MISSION IN LIFE, WILL BE PREACHING AT HYDE PARK THIS MORNING AT 11 AM, HOPING TO CONVERT SOME OF THE DON'T KNOWS TO GOD, etc."
Kellie gasped. She had to GET TO BED IMMEDIATELY. When she told reporters she was going to preach in Hyde Park, she didn't think they'd take her seriously or announce the time! She was just going to saunter over there and give a sermon off the cuff to whoever was listening. (After she obtained a SOAPBOX, for God's sake! from the basement of the hotel.) That's what people did in Hyde Park. Now she had to get some sleep (by the time she got to bed it was six and had to be up by 9:30) and go out there! How could she explain this to the German? She got up and gestured "time to go", and somehow, he got the message. He followed her to her room (bad idea) where she had a wrestling match with Mr Hulk before he finally consented to leave. (He listened because she kept saying, "tomorrow, tomorrow," and to him it meant we get together tomorrow.) The next day she gave her sermon, and photographers were there.
The contest Kellie entered was small potatoes compared to the Press she gathered in London. What mattered if they picked her first or last? (The fix or favoratism is in all these shows. You could be Godzilla, but if the Promoter loves you, you're in.) She was all over the front pages of newspapers, expressing her Freedom of Preach. Kellie always saw the larger picture and searched for Stepping Stones between the Stumbling Blocks. She never did believe in failure, but with God on her side, sooner or later, she would win.

Click thumbnail to the left to read to the original NEWS OF THE WORLD article featuring Kellie. The size of her picture and its prominent position on page 4 pleasantly surprised her.
Kellie Everts never thought about the German, whose name she couldn't even remember. Let's call him Hans. A few months later a strange call came from Germany. It was Albert Busek, and Hans was with him. Albert was going to be the go between and ARRANGE THE MARRIAGE BETWEEN KELLIE AND HANS, more or less. (These were not exact words, but the feeling was there.) Kellie was stunned. What were they talking about? She was polite and charming and very baffled. After she hung up she thought, and only one idea came to her: ARNOLD. Arnold had been in Germany. They told him about that night, and Arnold set her up. He must have told them Kellie was in love and wanted to marry Hans.
Another quirky incident. Nothing to do with Arnold. Albert Busek said he was meeting a friend and they were going to a Museum of Art, and would Kellie like to go also? Sure! Kellie went to the coffee shop to meet the friend already there, a lovely lady with nine children, dressed rather sexy.
She hit it off with the lady and had a nice chat, exchanging phones and addresses. Albert came. They all went to the museum. For a few minutes they were together and then Kellie stared at a painting for a minute. Looking around, they had gone. They had given her the slip. Of course! How could she have been so stupid! They wanted to be alone together. The "museum" was no more than a COVER to prove to Kellie,
"Us having an affair? We're both married. We have friends and go to museums together."
This had a nice ending. Months later, Kellie gets a package from the lady. A magazine, 'TITBITS' featured Kellie on the front page, in a bikini, and a centerspread story about her trip to London and her sermon. If Kellie had not met this nice lady, she would not have known about it nor received the copy! Thanks, Albert Busek!
After leaving London Kellie was amazed by the appearance of this article, sent by a lovely lady of London. She mused about the grace of God that gives so much for so little effort. All glory to God!
Click on thumbnails to see the original TITBITS article which
appeared in Britain January 2-8, 1975.
The bodybuidling press that talked about Kellie after she left.

Click on thumbnails to see full sized images
Over the many years, Kellie Everts watched Arnold getting bigger and bigger, with Franco trailing along as usual, getting bit parts in all the Arnold action movies, until it seemed Arnold couldn't GET any bigger. He had now beaten Sylvester Stallone as the #1 movie hero.
In terms of the world's standards, Arnold is huge and Kellie is small. Does that make her feel left behind by the man who once loved her, then hated her? Kellie remembers a quote from the great Winston Churchill after he'd lost an election. He turned to the winner and said,
'ENGLAND HAS NOT HEARD THE LAST OF US YET.'
The winning guy was so befuddled he called his aides to find out what the count really was - was it he who won, or Churchill?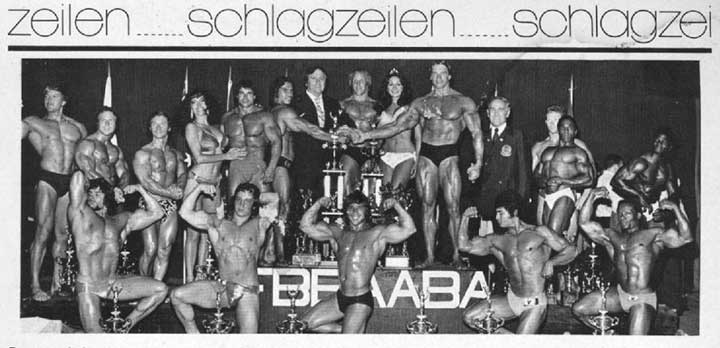 The bottoms of these pictures tell a strange tale. Arnold put out the word to all his friends that he did not want any photos which he and Kellie appeared together in to be distributed. One of Kellie's fans wrote Tom Minichiello asking for pictures of Kellie from bodybuilding. Tom Minichiello sent the bottom headless photo back to the man. The only thing Kellie could figure was that Tom feared the wrath of Arnold, and if he cut off the top of Arnold's head in the photo then no one would know it was Arnold. Notice the empty space at the bottom showing that there would have been ample room for Arnold's head.
Tom, don't worry, you're safe. No one will ever know!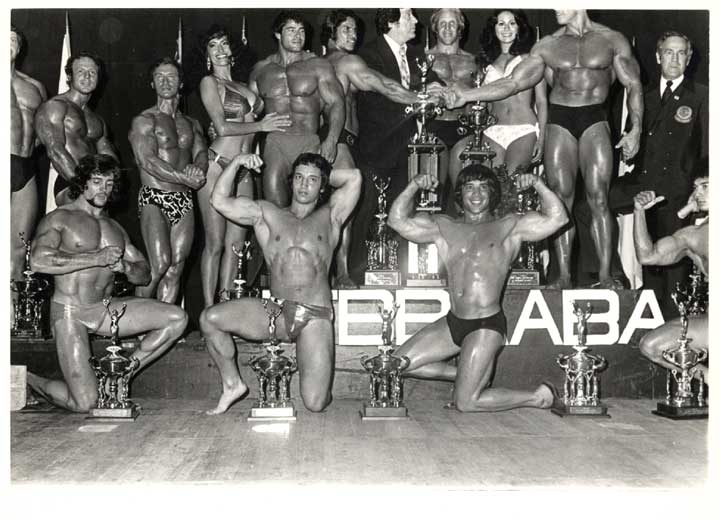 "Arnold Schwarzenegger was in Philadelphia that weekend, both for the contest and to be chauffeured around town in a limousine for promotion of his new book. At dinner that night, over a limitless French meal at a restuarant called The Garden, he said he really didn't think too much of women's bodybuilding, that despite what people might think, he didn't particularly like to see women sweat."
From Pumping Iron II: The Unprecendented Woman by Charles Gaines and George Butler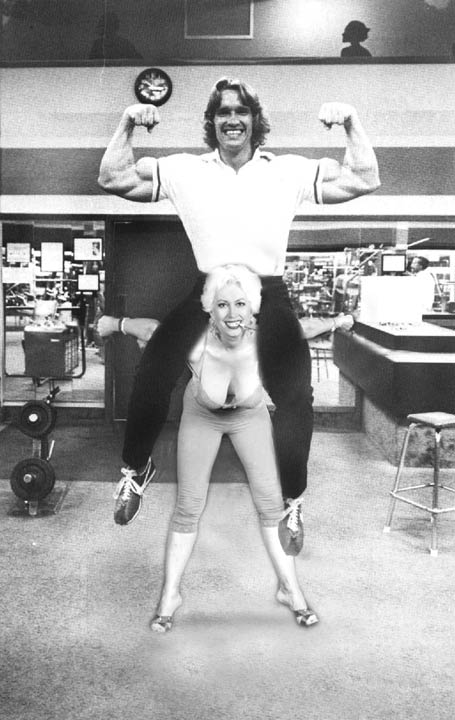 Did Arnold really sit on Kellie's back? To find out, you'll have to read her book, excerpts of which are on this site.